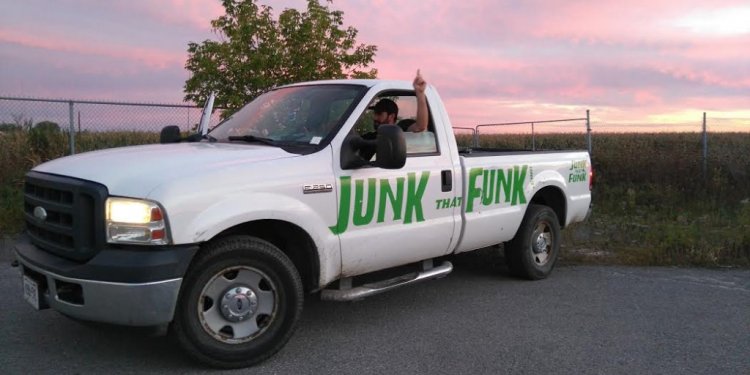 Ottawa Junk Removal
Have you recently completed a project that has left you a lot of scrap metal to dispose of, or have you simply accumulated an unused collection of old tools, auto parts, or any other type of metal? Your Ottawa scrap metal pickup experts will meet you right at your office, home, storage unit, or anywhere else on your property and clear out your scrap metal clutter.
Why Ottawa Loves Us
Our scrap metal recycling experts love tackling jobs of all sizes. With us, you don't even have to worry about risking injuring yourself by carrying sharp scrap metal or other types of debris. Our experts will take care of the entire job, from the lifting and sorting to ensuring that everything is properly disposed of. We offer 100% transparent pricing that is based on volume, meaning that you only pay for the space your scrap metal takes up on our truck. On top of all that, every junk removal expert is bonded, licensed, and insured, so you can trust that you're in good hands.
How It Works
To get started, call 1-800-GOT-JUNK? or use our convenient online booking tool to schedule your appointment window. Within 20 minutes before we arrive, we'll give you a call to confirm your address. Once we arrive, we'll assess what needs to go, and then we'll give you a guaranteed written price quote. We'll gather, sort, and load your scrap metal, and then we'll be on our way.
What Types of Scrap Metal Do We Take?
At 1-800-GOT-JUNK?, we can take any type of scrap metal. Items that we are commonly called on to take include:
Fencing
Tools and hardware
Wiring
Auto parts
Metal window frames
Soft drink cans
Appliances, furnaces, and air conditioners
Metal clothes hangers
And more!
Where We Take Your Scrap Metal
The process of extracting and refining metal is time-consuming, costly, and potentially hazardous to plant and animal life. Metal is easily recycled, but it can be difficult to find a proper facility. At 1-800-GOT-JUNK?, we take the hassle out of scrap metal recycling. Once our junk removal experts have taken your scrap metal, we'll transport it to a trusted recycling facility. When you work with us, you can be confident that your scrap metal, as well as any other junk you need to get rid of, will be disposed of properly. We love Ottawa as much as you do, and we're committed to doing our part to keep it beautiful. Recycling isn't a new fad for us; we recycled before it was cool!
Serving Contractors and Local Businesses
Are you a contractor or local business that has a lot of scrap metal that needs to go? At 1-800-GOT-JUNK?, our scrap metal recycling specialists can handle pickups of all sizes. When you arrange your pickup, just tell us how much metal you have, and we'll be happy to accommodate.
What Else Do We Take
Not only do we provide a convenient Ottawa scrap metal pickup solution, but our junk removal experts can take away nearly any type of junk. From electronics and furniture to paper clutter and old collections, we've got you covered. We can take anything the can be lifted by a team of two experts and loaded onto our truck.
Junk that we often take includes:
Mattresses and beds
Dressers, bookshelves, and cabinets
Dining room and living room furniture
Construction and renovation debris
Yard waste
And more!
We're In Your Neighbourhood
When you're ready to free up space in your workshop, garage, or basement, give 1-800-GOT-JUNK? a call or reach out to us online today. No matter how big or small the job, our scrap metal recycling specialists are happy to help. We take scrap metal of all types, giving you a fast and easy solution for ensuring that your old wiring, fencing, and rusted tools are disposed of responsibly. We're in your neighbourhood, so call us today and show us what we're up against.
See also:
Share this article
Related Posts