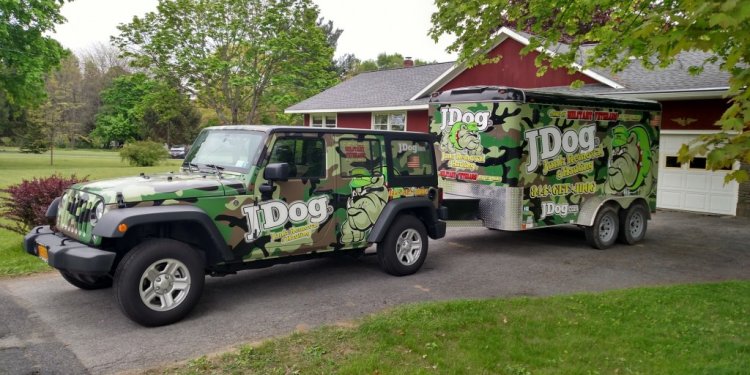 JDog Junk Removal locations
I was born in New Orleans LA., and lived throughout the River Parishes during my childhood. I enlisted in the Marine Corps delayed entry program at the age of 16. At the age of 17 August 19, 1996 I entered boot camp and in April of 1997 graduated from Supply Administration and Operations school.
My first unit in 1998, with the 26th Marine Expeditionary Unit MEU Command Element, I served as the supply, logistics and operations clerk. I was part of headquarters for the Strategic Reserve Force during Exercise Dynamic Response in Bosnia. I played a notable role in the Balkan conflict. In 1998 I participated in Operation Determined Falcon, the one-day NATO aerial show-of-force in Kosovo. In April to May 1999 I took part in Operation Noble Anvil and Operation Shining Hope. While supporting Noble Anvil, the NATO bombing Campaign in Kosovo, with AV-8B Harrier Attack Aircraft, I also provided security for Kosovar Refugees at Camps Hope and Eagle in Albania. From June to July 1999 I participated in Operation Joint Guardian. As the first U.S. Peacekeepers in Kosovo, I earned a Combat Action Medal with the 26th MEU that provided stability to the embattled region. Also in August 1999 I took part in Operation Avid Response, providing Humanitarian Assistance to the people of Western Turkey left homeless by a devastating earthquake earning a Humanitarian Service Medal.
Exiting the Marine Corps in 2004, I enrolled into college in Biloxi, MS. In 2005 Hurricane Katrina destroyed the Gulf Coast. I served one year with the Army National Guard providing security during the aftermath. After that year I held various jobs and after struggling financially for 2 years, I dropped everything and moved to Frisco, TX. In 2008, I moved to Dallas where I was hired with DCMA, Department of Defense. From 2011 to 2013 I volunteered for two 12 month deployments on Camp Leatherneck, Helmand Province and Bagram Airfield and Parwan Province, Afghanistan. I provided management of DCMA's combat support functions surrounding deliberate planning, doctrine and policy; command and control for current operations and Combat Support Team responsibilities assisting warfighter readiness; and mobilization of Contingency Contract Administration Support (CCAS) operations.
I still live in Dallas; have an 8 year old daughter Zoe and my wife Kami N. J. Schexnayder.
Military Awards
Combat Action Ribbon
Navy Unit Commendation Ribbon
Meritorious Unit Commendation Ribbon
Marine Corps Good Conduct Medal
National Defense Service Medal
Armed Forces Expeditionary Medal
Kosovo Campaign Medal
Armed Forces Service Medal
Humanitarian Service Medal
NATO Medal
Share this article
Related Posts