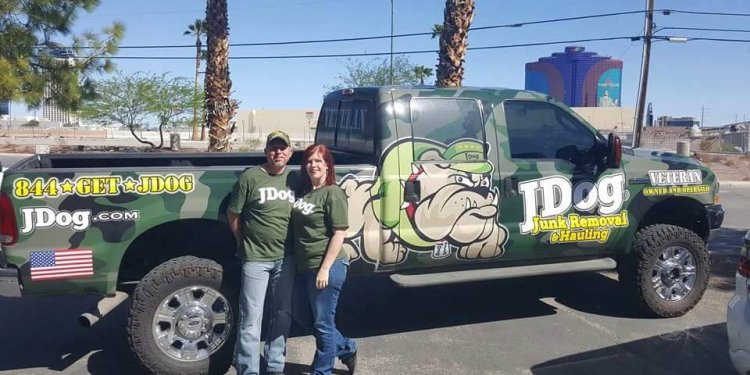 JDog Junk Removal Las Vegas
Todd was born and raised in Wyoming where he graduated high school in 1994 and went on to work several different jobs. His desire growing up was to be a Police Officer. In 1998 he was accepted to the Wyoming Law Enforcement Academy. After graduating he got his first job as a Detention Officer working in a county detention center. He worked there for approximately a year and a half and then got a job working as a Police Officer where he worked for approximately two and a half years.
After 4 years in law enforcement he took a break and then joined the U.S. Army in 2004 as an Infantryman. He graduated Basic Training and AIT and went on to Airborne school where he became a Paratrooper. His first duty station was with the 4th Brigade, 25th Infantry Division, 501st Parachute Infantry Regiment in Ft. Richardson, Alaska. While stationed in Alaska he deployed with them to Iraq for a 14-month tour. When he returned he reenlisted for 4 more years. During that time, he was stationed in the Los Angeles area as an Army Recruiter, but was cut short and sent to Ft. Stewart, Georgia where he served with the 4th Brigade, 3rd Infantry Division, 15th Infantry Regiment as a Team and Squad Leader. He deployed a second time with them for a 12-month tour in Iraq. After 8 years he felt it was time to move on and do other things.
Todd's accomplishments in the Army are the Iraq campaign medal with 4 campaign stars, 2 Army Commendation Medals, 2 Army Achievement Medals, 2 Army Good Conduct Medals, National Defense Service Medal, Global War on Terrorism Service Medal, Non-Commission Officer Professional Development Medal, Army Serve Ribbon Badge, and Parachutist Badge.
Share this article
Related Posts