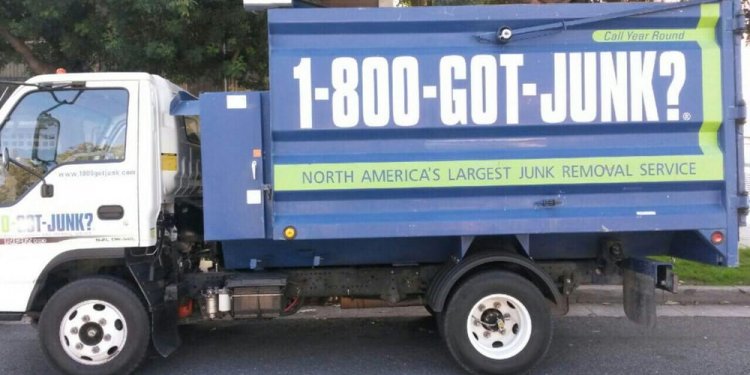 1800 Junk Removal Reviews
50 Terminal St
Bldg 2 Unit 715
Boston, MA 02129
(800) 468-5865
Everything about 1 800 got junk was perfect...from the woman who answered the call to Don, who came to give me a quote for my piano removal. Then John and Rob came and moved the piano. They were courteous, efficient, kind...and strong! All were exactly on time, calling before they came. I would recommend them without hesitation. They made what I thought was going to be a difficult job look easy! Thank you 1 800got junk.
If you're like me, you're a bit concerned that the service is too good to be true. Scrolling through the comments you'll see both super positive and super negative comments. The fact is: if you're on the ball, it probably will be a fine experience, but if you're like me, you may have a bad experience (but it's entirely avoidable). I booked the service at the absolutely last minute that I could reasonably do it. Mostly, because it involves throwing away a mattress, and sleeping on the floor without one didn't seem like a fun time. I booked the slot from 5PM-7PM. I got to my apartment at 4PM, got everything ready, so it would be easy for the folks to move my stuff. I booked my appointment online and it was fairly easy and they give you access to an online portal, which includes the appointment and the status. At 4:45PM (15 minutes prior to the starting time), after checking the portal I saw my appointment was turned to cancelled with no notification to me (no email, no indication). I immediately called the support line and got a person pretty quickly. I explained the situation, telling them they were wrong, etc. Later she revealed that my cell number was incorrect and I realized I was in the wrong, not them. At this point it was about 4:50PM and I basically said "hey, can they come this evening", and she said no, that they were fully booked. It didn't really make sense to me because I was booked for 5PM, it was before 5PM, and we could still make it work out. She got me an appointment the following day for 11AM-1PM. I tried to get it sooner pretty hard, but she said that was the best she could do. Acting paranoid, I added a bunch of phone number alternatives in case and waited patiently for them to call. They called me the next day at 10:40AM confirming the appointment, I told them it worked. They said they would be there in 20 minutes, got there in 40 minutes (which is totally reasonable: driving in Boston is awful). Two men helped move all my stuff (I had a lot). I offered to help and they declined, even though I felt like I'd be able to help out quite a bit. Reading the reviews here, I realized that by turning down help they probably maximize their tips. I had a lot of stuff, and was concerned I would be the "full truck" price, but didn't care because I need to get rid of this stuff ASAP. It took about 40-50 minutes of them moving stuff to fully unload my stuff. They only charged me $299. I threw each of the guys $20 and thanked them and they seemed appreciative. So my initial impression was pretty awful, but it was mostly my own fault. Things to keep in mind though: * Book them prior to the absolute last minute, to allow time for screw ups (both on your end like me, or their end). * Include a bunch of alternative phone numbers. Use things like Google Voice, Skype, just in case something happens. * Know that if changes happen to your appointment, they will not contact you if they can't reach you via phone. Use the online portal, which is a really bad application (I'm a web dev and it's really half-assed). * Know that it's name, 1-800-GOT-JUNK lines up with it's philosophy. They're sort of a phone-first, online second presence (unlike an uber, grubhub, the companies you're used to). After everything is done, I'm super happy with what happened. They could've done a better job communicating with me, but at the end of the day everything worked out. But the experience was highly emotional for me, as I was really stressed out if their second attempt would be a failure too, causing me a lot of anxiety that wasn't warrented. These guys are great, but leave room for mistakes. They happen, but overall I'd use them again 100%.
I'll relate EXACTLY what happened, without commentary, and you can draw your own conclusions. The Got Junk guys show up for an estimate. Since I'm not local, I'm managing this whole process by phone. They look at the load and say, "One full truck. $679." Expensive as hell, but OK. Then I foolishly say, "I'm really desperate to get this done quickly." To which he replies, "I'll call the office and get back to you." Calls me back ten minutes later to say the estimate is now two truckloads for $1360. I say, "Wait-why did your original estimate, which you made ten minutes ago while STARING AT THE STUFF, double after you called the office?" He mumbles something about there being more junk than he originally thought. Still, I'm desperate, so I give the green light. After which I hang up, call a friend in the area and ask her to swing by to see whether they really fill two trucks. She shows up, starts monitoring them, and-presto-they call to say it's just one truck after all. So, to recap: 1) They quote one truckload. 2) When they realize I'm desperate, it doubles to two truckloads. 3) When someone shows up to oversee them, it reverts back to one truckload. Maybe it was all completely innocent. As I said, draw your own conclusions.
This company does not even deserve one star. I understand you pay more for a convenience but this is a scam. I called in the order, spoke to a very nice women who I in detail described the amount of stuff we had ( which was very very small ) about 2 wheel barrels full to be specific. She informed me it sounded like we only had the minimum for our area which would be $140. When I received the call from the two men that were at my house I was very surprised to hear there was a range as to how much it would cost. The range I was provide was from $280 up to $380. I automatically thought how could they give me a $100 range?? I feel I was personally treated different as I was a women and "didn't know much about this stuff" and then after I provided my CC information the man on the other end of the line goes yes its going to be the $380!! Without even filling the truck he charged my card the maximum amount, $240 over my quoted price and then told me he would drop it in the middle of my driveway/street if i did not pay. I contacted management and spoke to Dereck Kenmuir who responded with a short, and incomplete email stating it goes by the truck load. My husband owns his own carpentry business and is very smart when it comes to how much material would fill a dumpster or truck. Our junk would not have filled a fraction of it!
I used these guys to get rid of an old living room set. First, their prices are outrageous... but I was in a bind. Second, when cashing out, as if their prices aren't high enough, the movers hit me up for a certain tip. Not cool. I was so put off. I won't use them again.
Share this article
Related Posts