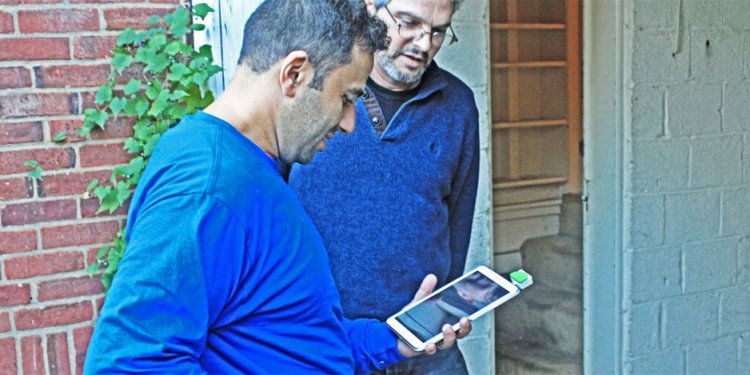 Nova Junk Removal Reviews
Arlington, VA 22207
(703) 807-5807
Kyle Clifford is a Genius of Junk. For the past week, I've had a broken refrigerator in my kitchen and a new refrigerator in my living room. The Home Depot delivery guys were here last week to deliver and install the new one and haul off the old one (identical in dimensions). But lo! They (and I) were amazed to realize that the kitchen doorways were about 4 inches too small to let the appliances pass through. Argh! It appears that the previous owner of my place put the original refrigerator in the kitchen and then remodeled the kitchen with too-small doorways. Really? Really?!! Previous owner, my relationship with geometry is fraught enough as it is. The only solution was to hoist said fridges and coax them through the kitchen window, which is just a 1/2 inch wider than the appliances. The Home Depot dudes said "no way jose" and left me with a fridge in my living room. The guy at Junk in the Trunk said, "We don't do that type of high-risk work, but call Kyle Clifford. I'd trust him to do that type of job." Well, I'm here to testify that this trust is 100% warranted. Kyle and Francisco got the old fridge out and the new fridge in with nary a nick or scratch to the appliances or my kitchen. Kyle even integrated the water line to the freezer and showed me how to work the little rollers and feet on the fridge. I was so thankful to have this issue fixed that I had to hold myself back from hugging him (Dad reflex I think). Kyle smiled and said, "Don't worry, you wouldn't be the first." In short, Reliable Hauling does awesome work at a very good value. I couldn't be happier to have discovered them. Kyle is like the incredibly strong big brother I never had!
Honest, reliable, great communication. Responded to my email with a phone call within an hour, looked at my mother's condo and gave me an estimate for hauling everything away the next day, sent emails to let me know what was happening and when throughout. Kyle's service was as good as it gets. On top of that, he recommended his wife as a Realtor. She called me the next day after looking at the condo and told me why she wasn't the right person to use. She gave me a great recommendation. I appreciated her honesty and integrity. I'd recommend them in a heartbeat.
We recently moved into a house that included a shed with numerous items we did not want (saw horses, tables, various wood pieces, kitchen cabinet, various tools, garden hoses, etc) and wanted to get rid of them. We decided to go with Reliable Hauling based on the positive reviews and easy/quick communication in setting up the appointment . They exceeded our expectations by having a) good easy/communication via email to describe what we wanted hauled and set up the appointment b) ability to do weekend hauling c) giving us a good time window of 10am-12noon and called us 20 mins before arriving (and they arrived at 10am) d) they were in and out quickly and without issue. I spoke and worked directly with Kyle (owner). The price was reasonable compared to what it would have taken us to personally remove the items via our SUV and back and forth to the dump. So all in all, we are very satisfied!
I just moved to the area and I needed a roomful of boxes and moving supplies/paper removed. I called Kyle (owner) at Reliable Hauling, and in less than 24 hours, he hauled everything away. Very personable and professional - I wouldn't choose anyone else.
Reliable Hauling is just that and a lot more! Kyle and Francisco were timely, clean and thorough. I reached out to RH on Sunday evening via the website and the showed up the next day within the time slot given. Couldn't be happier to have used Reliable Hauling!
This company was excellent and I would definitely hire them again. They showed up on time. They were quick and efficient. Their rates were extremely reasonable. They hauled away all the trash from my kitchen remodel and left everything very clean.
Needed some junky office furniture removed and decided to go with Reliable Hauling due to the rave reviews. I worked directly with Kyle who was extremely responsive, professional, and as the name entails, reliable. He and his partner arrived promptly and were in and out with the junk in an hour. I also chatted with Kyle for a bit about his personal life and he is a hilarious and genuine person! I highly, highly recommend Reliable Hauling! I can't say enough good things about them!
Always on time, always a good value for the price paid. Kyle is terrific to work with. He picks up and cleans up - easy choice to make when looking for hauling.
Great job! This is the second junk removal/trash hauling company I have used in a month and I will definitely use this one again. They responded to my email in 3 minutes, came the next day and did a wonderful job without any negotiating. I even received an email managing my expectations for arrival time. I am an Arlington native and it felt great helping this small Arlington business. It felt even better after we saw how hard Kyle worked.
Kyle, the owner, was prompt and courteous - and the best: came by less than 24 hours after I called. In, out - moving furniture and "stuff" in a flash. I was very happy with the service.and am looking forward to now cleaning out my garage in the spring! They were very inexpensive. I recommend highly.
The first time I used Reliable Hauling it was for a client who had a lot of stuff she didn't want to keep in her new home. Some was worth donating most not but Reliable took care of it all. The next time I used Reliable was just a couple of weeks ago and Kyle went above and beyond in helping with another clients move. He took things that were to be donated to a charity in VA and when my client decided he wanted something back, Kyle went and got it for me. A savior as far as I'm concerned. Terri R
Share this article
Related Posts