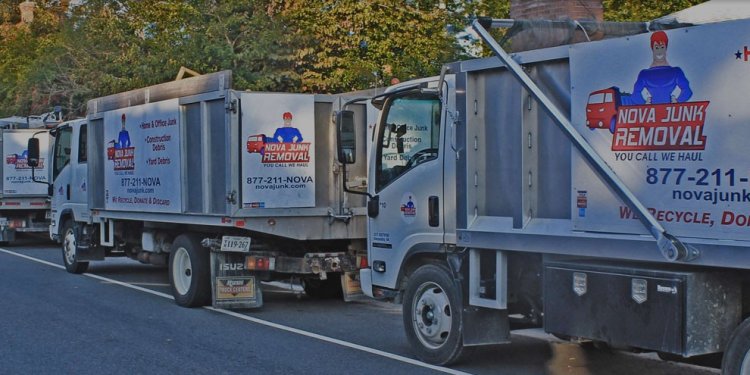 Junk Removal Services Northern Virginia
Fairfax electronic recycling is by far the best option for all of your unwanted items. If you've upgraded your computer or you no longer are using that old TV that's been in the basement, we can help you. At 1-800-GOT-JUNK? we provide a comprehensive cleanup service and we pay attention to local recycling guidelines.
Don't Throw Your Electronics in the Trash
Depending on where you live and who your local trash provider is, your unwanted junk ends up at one of several local dumps and recycling centers in the city. This may include 1-66 Transfer Station, Fairfax County Composting Department, or the Fairfax City Recycling location. However, electronics are items that you can prevent from heading to the dump by calling us instead. Why does it matter?
First, you may have to pay a fee to dump electronics, depending on the type and size. Additionally, and probably more importantly, dumping electronics isn't the most environmentally friendly solution. Instead, it is a better option to recycling them.
Electronics are often discarded prior to the end of their life. In other words, your computer may no longer be the best option for you, but it may still be functional to someone else. You could provide someone else with an opportunity to make repairs on it as well so that it can be sold or otherwise used by those in need. In addition, e-waste, as it is often called, is the fastest growing type of waste in the U.S. That means that the number of items ending up in the Fairfax, Virginia Dump as a result of electronic items being thrown out is more than ever.
Recycling Is an Option to Preserve the Environment
But, Fairfax electronic recycling is an option and 1-800-GOT-JUNK? can help you with it.
Recycling helps to conserve natural resources, protecting the limited supply we have available on this planet.
E-waste recycling helps to reduce greenhouse gas emissions, again protecting the planet.
It also helps to protect our health as a result.
Within every electronic item you have are various precious metals, many of which are very hard to obtain and replenish. This may include aluminum, gold, silver, and copper, as well as plastics and other ferrous metals. To protect those hard-to-reach deposits of minerals, we need to reuse the materials we already have. That's exactly what we can do by recycling e-waste in Fairfax, VA.
Protecting the Planet Matters
When e-waste hits the landfill instead of being recycled, it creates toxic and hazardous conditions in the soil and can contaminate the groundwater as a result. These toxins include mercury, cadmium, chromium, lead, mercury, and beryllium. These leach into the soil and ground water, impact your health and that of your family. Yet, you can control it by allowing us to recycle the products instead.
Junk Removal Fairfax VA: 1-800-GOT-JUNK? Is the Solution
When you call on us for recycling of your electronic items, we get the job done properly and help you to make an impact on the planet in the right way. We take every step possible to recycle items either to those that can use them or to recycling centers in the Fairfax area, including through the local recycling program sponsored by Fairfax County. By doing this, you do your part in reducing waste.
Fairfax Leaf Collection Available, Too!
Even better, you don't have to worry about getting rid of those levels. By the time September and October rolls around each year, the leaves begin to change color and fall, covering your driveway and yard with piles of them. Let 1-800-GOT-JUNK? clean them up for you. We would be happy to come to your home and collect the piled up leaves in no time.
Take the step right now to protect the environment by allowing us to help you with all of your junk removal Fairfax VA needs. We're here to offer a solution that's fat and friendly for any junk removal. Together, we can protect the environment and get your property cleaned up too.
Share this article
Related Posts