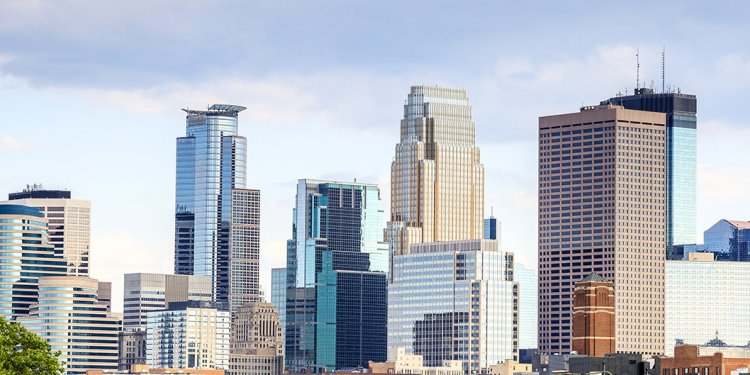 Junk Removal Services Minneapolis
When KSTP ran a story about a local family who was facing arrest because of the junk on their property, the three 1-800-GOT-JUNK? franchises banded together and came up with a solution that ended a life time of junk collecting.
Employee Spotlight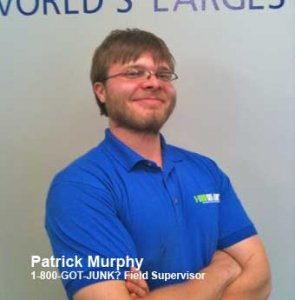 Patrick Murphy is a Field Supervisor within the Twin Cities franchise. He has been an employee of 1-800-GOT-JUNK? for over 2 years. In his first year and a half of removing our customer's unwanted junk, he focused his time in the Plymouth, Maple Grove, and Golden Valley areas. He has recently been spending more time in the eastern suburbs of Roseville, Woodbury, White Bear Lake as well as the southwestern suburbs of Eagan and Apple Valley. He is also falling in the love with the city of St. Paul and its many different areas like Highland Park, Como Park, Crocus Hill, and Macalester/Groveland.
Pat is a resident of north Minneapolis and lives right on the border of Robbinsdale. In his spare time he loves working out, eating, playing drums, listening to music and hanging out with friends. Some of the fun and unique 'junk' he's picked up over the years are a truck load of Amp Energy drinks and another full truck load of cookies.
Support for Twin Cities Fundraising and Charity
1-800-GOT-JUNK? is not only environmentally conscious, but socially conscious. We support and work with a number of charitable organizations here in the Twin Cities. This winter we brought our trucks and people out in force to support the City of Lakes Loppet, an internationally recognized ski race through Theodore Wirth Park and across Lake of the Isles into the heart of Uptown. The Loppet is the primary fund raising event for the City of Lakes Nordic Ski Foundation that supports fitness and skiing programs for inner city youth.
We have also worked with organizations like the Arthritis Foundation to provide support for their walk and many smaller organizations as well. If you have a charitable event where we may be of help to you, please contact us.
Cleaning up Twin Cities Residences and Businesses
We love the Twin Cities community, especially participating local community parades. (It just must be the kid in us. ) Let us remove junk from your house or office/business. We can get rid of your old furniture, construction waste, unwanted computers, and other assorted junk.
Win a 1-800-GOT-JUNK? Sweatshirt
What is the strangest thing you have ever picked up? Tony Stamson, 1-800-GOT-JUNK? franchise partner for Twin Cities Southwest answers this question, "I have a 5 ft long stuffed Marlin hanging over my desk that I couldn't bring myself to throw away. We've picked up a truckload of Garden Gnomes, refrigerators of spoiled meat, and some couches that you wonder if they were ever really in style. But the strangest thing we've ever gotten is in the photo below. What is it? We have no idea. A year of internet searches and showing it to visitors at our office has generated a lot of creative guesses but no plausible answer. So if you can tell us what it is, I'll send you a 1-800-GOT-JUNK? sweatshirt for the answer".
Share this article
Related Posts