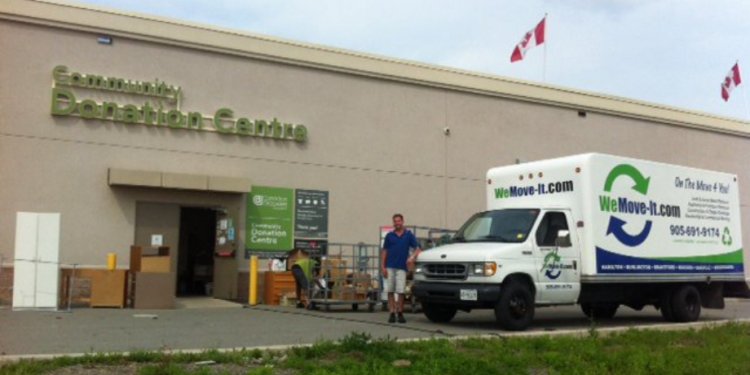 Junk Removal Services in Brampton
Disposing of old furniture, piles of tree branches, or heaps of outdated clothing can be a real pain. Sure, you could spend your day off renting a truck, loading up all of your junk, and driving around to different recycling centres and transfer stations, but that's no fun.
When you've got junk that you want to make disappear, we're happy to help. We're 1-800-GOT-JUNK?, and we've been providing trusted junk removal since 1989. We'll come right to your home or office to pick up virtually any non-hazardous junk you're tired of looking at - just point and junk disappears!
That's right - as a full-service Brampton junk removal company, we take care of everything so you can sit back, relax, and enjoy your clean, junk-free space. We'll remove your junk from anywhere on your property, load it up, and make sure it's disposed of in an environmentally-responsible fashion.
Goodbye Junk. Hello Relief.
Wondering what kinds of junk we accept? We're glad you asked!
We'll take away any non-hazardous junk that our crew of two strong, friendly Brampton junk removal experts can lift and fit inside our clean, tidy truck, including:
Construction and renovation materials
Treadmills, weights, and stationary bikes
Broken glass, dishes, and windows
Old pots and pans
Household appliances
Pillows, blankets, and bedding
Tools
Books, VCR tapes, and records
Air conditioners
And lots more!
Because we're committed to protecting the environment through our environmentally-responsible junk removal practices, we'll make sure that any clean, usable items are donated to local charitable organizations for re-use. We also carefully sort through every load, and take any recyclable materials to an approved local recycling facility, diverting as much junk as possible away from our landfills - after all, we recycled before it was cool!
Brampton Yard Waste Collection
Whether you're completely re-doing your back yard, cleaning up your flower beds, or tidying up after a storm, chances are good you'll end up with lots and lots of yard waste to get rid of, which can be a challenging task. Those big brown yard waste bags can be a real beast to fill, and the Region of Peel only provides bi-weekly yard waste pick-up for most residential addresses in Brampton. That means you could have to store your yard waste for up to two weeks, and if you happen to miss your pick-up day, you'll be stuck waiting for another two weeks...
Here at 1-800-GOT-JUNK?, we're helping homeowners by providing fast, full-service Brampton yard waste collection. When you call us to take away your unwanted gravel, soil, shrubs, and plants, we'll come straight to your home and load up everything for you, right from your backyard! Just think - you won't have to shovel, lift, or load anything - we'll do all the heavy lifting for you! And once we're done, we'll sweep up your walkway or driveway, and take your yard waste to be recycled at an approved Brampton composting facility.
Affordable, Up-Front Pricing
We believe in providing you with fair, up-front pricing - that's why we base our fees on the amount of space your junk will take up in our truck, not on the amount of time it takes us, or what kind of junk you want to get rid of.
When we arrive at your home or office, simply show us what we're up against, and our friendly crew will give you a clear, on-the-spot quote that includes loading your junk onto our truck and disposing of everything in an eco-friendly manner.
Ready to experience fast, affordable relief from your biggest junk headaches? Give us a call at 1-800-GOT-JUNK? today to schedule your free on-site estimate, and get ready to say goodbye to all your unwanted junk!
Share this article
Related Posts