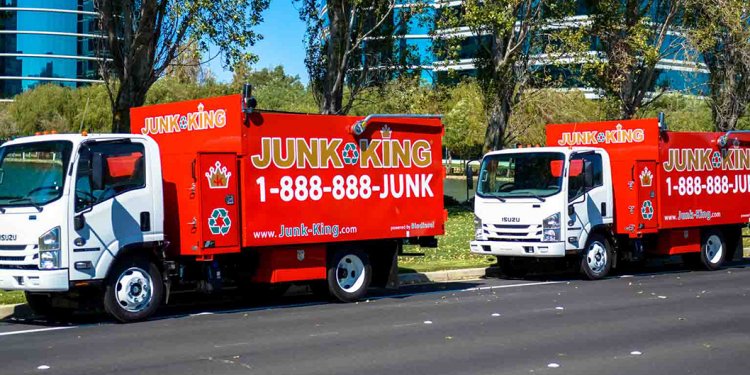 Junk Removal Services Detroit Area
1-800-GOT-JUNK? provides fast, full-service bulk trash pickup for residential and commercial customers throughout Metro Detroit. Our team of uniformed junk removal experts are available to tackle your biggest junk removal challenges - just show us what we're up against!
We can make all kinds of non-hazardous junk disappear, including construction waste, old appliances, unwanted clothing, and yard waste. If our crew of two strong, friendly team members can lift it and it fits in our truck, chances are good we can take it!
As a full-service junk removal company, we're committed to making disposing of your trash quick and easy. Simply give us a call at 1-800-GOT-JUNK? or go online to book your appointment - in some cases, we can even be there the very same day.
When we arrive at your home or business we'll ask you to show us what we're up against. Our on-site estimator will give you a clear quote for service that includes our labor, travel time, and tipping fees. You don't even need to pack up your junk or haul it outside - we'll take it from anywhere in your home or property.
Once you give us the go-ahead, we'll work quickly and efficiently to sort through your junk, separating out all the good, reusable items for donation to a local charity. We'll also set aside any recyclable materials like concrete, wood, and metal for diversion to an approved recycling facility.
After we load up all of your junk, we'll sweep up the area up, leaving you with nothing but a nice junk-free space to enjoy.
Just point and the junk disappears!
Detroit Large Item Pickup Service
Wondering how to get rid of large unwanted items like old appliances, mattresses, furniture, and carpets? At 1-800-GOT-JUNK?, we can accept all types of over-sized trash, making it easy for you to enjoy instant relief from clutter in your home or office.
And because we're committed to taking care of you and the environment, we work hard to recycle large items like refrigerators, used tires, and even hot tubs. When you call us for Detroit large item pickup service, you can feel good about de-cluttering your house while your helping to keep good, reusable materials out of our area landfills.
Bulk Trash Pickup Service
If you're considering renting a dumpster to deal with piles of trash at your home or commercial property, give 1-800-GOT-JUNK? a call. As the world's largest junk removal service, you can count on us to take care of your bulk trash quickly and efficiently - just point and junk disappears!
Whether you need a one-time bulk trash pickup, or you're looking for an ongoing relationship with the most reliable junk removal service in Detroit, call us today at 1-800-GOT-JUNK?. We're fully insured, and we offer extended evening and weekend service to fit your busy schedule.
We're In Your Neighborhood
As a locally-owned and operated junk removal service, we're happy to help take care of your biggest junk challenges. We've been providing trusted junk removal since 1989, and during that time, we've helped countless homeowners and commercial property managers.
Our goal is to exceed your expectations from the moment you first contact us to when we drive away with your junk. We make it easy for you to book your appointment through our toll-free number or online, and we'll be sure to arrive when we say we will.
Goodbye Junk. Hello Relief.
For fast, full-service bulk trash pickup service and Detroit large item pickup, call us at 1-800-GOT-JUNK? or go online. We're ready to help take care of you, and your junk.
Removing your junk is easy with 1-800-GOT-JUNK? We have three 1-800-GOT-JUNK? franchises servicing the Detroit area. You can find us hauling junking from Farmington, Novi, Northville, Plymouth, Grosse Pointe, Macomb, Clinton, Clarkston, Lake Orion, Oxford, Franklin, Troy, Bloomfield Hills and many more. Our junk removal experts will remove anything you don't need from old appliances, yard waste, construction debris, to random household junk. All you have to do is point and we'll take care of the rest for you. Offering same day service for both residential and commercial clients we are your number one choice for junk removal. We keep as much junk out of the local landfill as possible by recycling and donating on a daily basis. We take pride in giving back to our local Detroit communities! Watch what we do.
Share this article
Related Posts