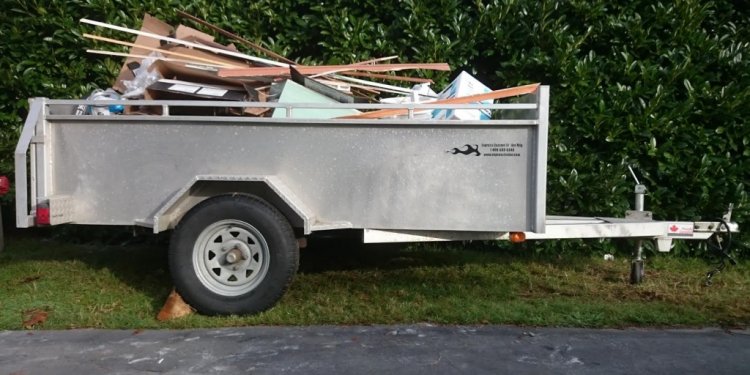 Junk Removal trailer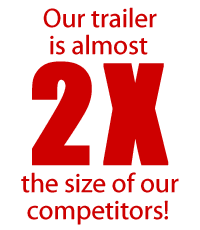 Our junk removal prices are based on the volume an item or items take in the truck/trailer and not based on the time or labor involved in loading the trailer. This means if it takes longer to load their will be no addtional charges to our customers. Trailer load prices are based on a 26 Cubic Yard (7ft Wide x 20ft Long x 5ft High) trailer about twice of what the Junk and 1-800 franchises have. We are also fully licensed and insured! Being fully insured covers your personal liability when some one is working on your property. Beware of the no name 'two guys and a pickup', if they are injured on your property without insurance you may be held liable. We take pride in the jobs we do and will leave the property clean and swept up. We are professional, courteous and dependable. The way customer service should be, just like it was in the old days. We care about leaving our customers happy.
What does this mean for you?
Our Full Load costs less than our competitors.
You SAVE over $283!
We can handle most jobs in a single visit.
Call NOW!
303-249-1980
Ask us about our Military and Senior discounts!
Junk removal prices as follows for light to medium weight junk and debris:
26 Yard Trailer - All labor included in prices
Whole Trailer load $695 You SAVE close to $200!
1/2 Trailer load $395
1/4 Trailer load $225
1/8 Trailer load $150
$89 minimum
22 Yard Trailer - All labor included in prices
Whole Trailer load $595
1/2 Trailer load $350
1/4 Trailer load $195
1/8 Trailer load $125
We do the work! You just let us know what needs to be picked up and hauled away and we do the rest.
Load Size

Haul It 4 Less

Local Junk Man

1-800 Junk

Minimum Savings!

Full*

8* (2 trips!)

66* (2 trips!)

3 Saved!

1/2

Saved!

1/4

Saved!

1/8
*Load size requires 2 trips from competitors!
Call 303-249-1980 to schedule your pickup
Single item prices: Depending on size and location
Appliance up to 2 for .00 any additional .00 per appliance
Big Screen Televisions $90.00 - 125.00
Couches and Chairs $89
Mattress and Box Spring $89
Hot Tub removal $275 minimum. We have a state of the art Spa Dolly for safe and effective removal. No mess in or out! In deck or hard to access areas may be subject to additonal charges. We are fully licensed, insured and can show you proof!
Size 4x4 and under $275 (free standing that can go through a fence)
Sizes up to 8x8 $295 (free standing that can go through a fence)
Sizes larger than 8x8, please call for a price quote
$395 for a free standing hot tub that has to be cut up to be removed but is still 8x8 or under
Any hot tubs built into a deck, larger than 8x8 or located in the mountains, please call for a price quote
We take many other items not listed here, however we do not take any hazardous materials. If you are unsure about our prices or items we haul, please call us as we will gladly come out and give you a free no obligation quote. We do have a $89.00 minimum pickup call.
Share this article
Related Posts