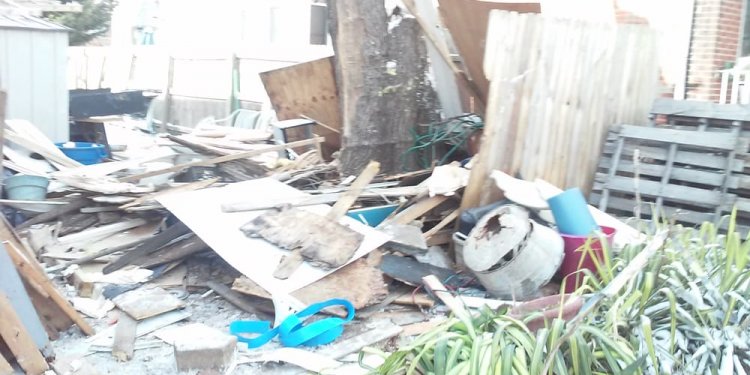 Junk Removal Philadelphia PA
19154
Philadelphia, PA 19154
(484) 424-2913
I am surprised by some of the reviews on here. I have used AJ twice to remove a large amount of construction debris and general clean out of a house. He was on time, charged me the pre negotiated price and worked quickly to fill his truck. He was going to donate a few items, which I thought was really nice as some of the stuff he hauled away was definitely salvageable. My experience with AJ have been positive.
This was the biggest mistake I ever made. "Andrew" quoted me 200.00 and charged 350.00. This guy is DIRTY. DO YOURSELF A FAVOR AND FIND A REPUTABLE COMPANY. I will tell everyone I see about this guy who actually told me "I will probably charge you less if I can sell some of the stuff" LIES! He filled his truck with my sons belongings and when my husband balked at the increase, he said he could offload some of it. This guy is a creep, a liar and a FRAUD. STAY AWAY. BAIT AND SWITCH - THAT'S WHAT THIS GUY DOES. YOU WILL GET YOURS ANDREW. SCUMBUM.
He didn't mention that the listing showing him a few minutes from me was just advertising until he couldn`t make it the first time quoted and then was late for the following day. He is closer to Delco area so if you`re north of the city time and traffic are an issue. It`s not a formal business it`s a guy in a truck with a helper so expect to be part of the help. For little things he would be fine, for more then one item or a few very small items it might be best to get a professional outfit. - NOT in 19154 - I had to help push because his helper was strong enough not miss a wall - ripped a metal grate off the bottom on the steps because they couldn't lift it properly. - left their gloves on the ground in front of my house - had a little girl in the truck ( super professional AJ) - SEE BELOW! ****************NOTICE I woke up to an angry text message from AJ, another reason why you should go else where. Now i have to worry that this person knows where i live and alert my neighbors and local authorities that I may be a target. Text post for you to see that you can't tell your experience with this company.
These guys are sneaky, rude and unprofessional. They did the same thing to me: they quote a price, then they bump it up when they get to your place. They are just a guy and a pick up truck. I doubt they are insured or bonded, although I did not ask for proof so I did not get any. I would NEVER use them again.
I chose to call this business based largely on Yelp reviews. I try to seek out smaller local businesses before calling a chain or franchise, but this was a bad experience. I gave them the benefit of the doubt but suggest younsparevyourself the hassle. Friday: Called to request service (to be fair, it was around 4:30) and as per the voice mail message, sent a text "for the quickest response" with the specifics of my job request Monday: Got a text reply asking for more details and pictures, which Imediately sent. Waited for a response Tuesday: Got a response asking if Inwas free at 4:00 to talk on the phone. They never called. I texted at 4:40 and got no response. Wednesday: Got a text apologizing and offering to give me a discount rate. They gave me a reasonable quote and said that they would be out between 3-5. I left work early and waited They called at 5:00 to say they could not come until later that evening but I had plans and could not stay home. They agreed to come out first thing the next morning. Thursday morning: Guess what? They never showed up, never called, never responded to texts. I give up. A week later, time missed from work, and a pile of junk still sitting in my basement.
Bait and switch, ended up charging me $65 more than the price they quoted and wouldn't remove all of the garbage I needed to remove. Stay away!
Stay away from this business...typical bait and switch tactics. They will give you a lowball estimate based on pictures then want more money when they get to the site. I paid what they asked and they assured me no less than 4 times they had room on the truck for everything which was not true. They then promised to return the next day to pick up the rest, then the next day demanded an extra $200 to make the pick up. They also are not reliable for showing up on time or contacting to say they are running late. In my personal opinion they lack honesty and ethics.
A.J. and Shawn are great! They did what they said they would do, no hidden charges. In fact, I was the one who ended up having less to haul, and they were very quick to lower the price without haggling. Earlier that day, I realized I hadn't taken enough cash out for them, and I didn't have a check. They were extremely patient as I made arrangements to get the rest of their payment. Great guys! I would totally recommend them for your hauling needs. I did suggest they get PayPal though. Makes things easy peasy!
AJ and his partner helped haul away about a dozen contractor bags full of debris in our South Philly home. He made it clear that no job was too small or big and he worked quickly, cleanly, and efficiently. I underestimated the job some, and AJ was understanding and stuck by his already very reasonable estimate. Quoted us much lower than other companies we tried and saved us a lot of trouble and money - thanks!
There's nothing better than fast service for a good price by a honest company. I'll begin by telling you that I'm always Leery when I find ads on Craig's List but I needed a few things hauled away from my rental property (might I add, the same day). Not only did he return my call immediately, he was able to schedule me for same day service. Bless his heart. AJ WAS MORE THAN ACCOMMODATING TO ME (I live in North Carolina and he had to wait for me to wire the money to my brother) he also waited for my brother to get to the rental property in order to receive payment. In my eyes, he went above and beyond. This is GREAT BUSINESS. If I ever need anything Hauled away, he'd get my business again and again. Thank you AJ for your polite, courteous and prompt service.
institute for education
blogging salary
presidential education award
savannah guthrie education
blog underneath their robes
blogging questions
blog like tiny buddha
blog meaning in english
blog vs vlog
rand paul education
continuous education
environmental education
education to the core
blogging in education
education secretary
orange county department of education
boaters education
over blogging definition
institute of education sciences
masters degree in education
pro blogging tips
blogging on shopify
blog questions for students
brown vs. board of education
education companies
which of the following is a goal of hunter education
blogging in spanish
blog layout
blog post
us department of education login
special education schools
blogging startup
blogging the boys
Share this article
Related Posts