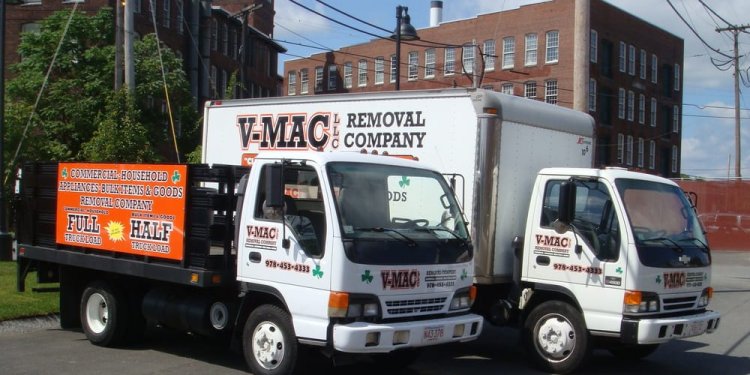 Junk Removal Lowell MA
(978) 453-4333
FANTASTIC SERVICE! You definitely *won't* get this kind of service from any corporate "Got Junk" service. It's a small business, located in Lowell, and the owner is really great to work with. We called the Tuesday after Labor Day weekend with a house full of junk we needed to get rid of ASAP. Ed fit us in that same day, and we were able to negotiate a great price with the number of truck loads we required. HIGHLY RECOMMENDED BUSINESS- so happy we read the other reviews and called!
Excellent Service! Ed gave me several quotes depending on the truck load, so I knew worst case and there would be no surprises (something I like!). I called the day before pick-up because we were purging like crazy and my husband was afraid the truck was too small, Ed immediately came out to confirm we were good to go. The removal guy came promptly and was very friendly. I would use them again and highly recommend!!
We recently moved cross country from Southern California to Tewksbury and after unpacking our household goods had a number of items that we needed to dispose of as we no longer wanted/needed them. The refuse company that services the area where we live does not do bulk pickup so we had to find a reputable company that would work with us. We believe in supporting the local community as opposed to the larger, generally more expensive chains and in our internet search found VMAC Removal. We emailed VMAC Removal with our needs on a Friday afternoon, Black Friday, and quickly received a reply requesting we phone the business so we could discuss specifics. Phoning the establishment that same afternoon we reached a very pleasant, professional gentleman, Ed. Ed took time to patiently explain how the pricing worked and after a few minutes on the phone and a series of questions, he was able to provide us with a conservative estimate to ensure there were no surprises. We arranged to have the items picked up the next morning. Prior to the appointment that Saturday morning, we received a phone call from Ed letting us know the driver was on his way. Sure enough within 10 minutes of the call his driver, Mel, showed up and quickly got to work loading the truck in the dreary rain. As the driver worked he arranged the items on the truck to minimize the footprint thereby reducing our cost for pickup. In a matter of about 15 minutes the truck was loaded, my garage was all cleaned out and the driver pulled away. Shortly thereafter the phone rang and it was Ed to confirm all went well and the cost had been as expected. That's Customer Service!! Ed and his associates were professional, prompt, respectful, helpful, courteous, honest, and trustworthy. Support a local business and give Ed and VMAC Removal a call if you have hauling needs.
Best service! I called simply to get a quote. Ed was upfront about all charges and had a guy out to my place within the hour to have my old carpeting and some moving boxes removed. The prices are well below what I was quoted from other places. Ed called the next day to make sure I was satisfied - who does that now a days. If I ever need something removed again I will definitely be calling VMAC.
5 stars all day. These guys are great. We used them twice within a few months to clean out two houses we were selling. They are prompt, courteous and professional. They do a great job and get every inch out of the truck. It is a flat rate to fill one truckload and they really get the most out of it. At once house it had snowed a couple of inches the night before and Mel and Larry grabbed a shovel and shoveled it right out without hesitation. These guys go the extra mile and I am nothing but pleased with the performance and value.
Wow! What great service and pricing. I called them and got a quote over the phone and an appointment the same day. They showed up with a professional company truck and two men to do the heavy lifting. They took a ton of trash from a cleanup/move out was doing. I would use them again in a heartbeat.
Great service. Does a great job packing the truck to keep your cost as low as possible. Would recommend for anyone that is remodeling.
High marks for great service. Remodeling the home and had VMAC come by 3 times to remove 40 gallon bags filled with drywall and insulation, approximately 50 bags total. The first trip required they shovel much of the loose drywall from a tarp into a large barrel & in the snow (this was before I purchased the 40 gallon bags). I was very happy with the responsiveness of VMAC, the equipment they have (hydraulic lift to make heavy loads easy) and how well they cleaned up. In all cases they were at the house within hours of my call. Price was fair, I would recommend them to anyone needing junk removal.
Share this article
Related Posts