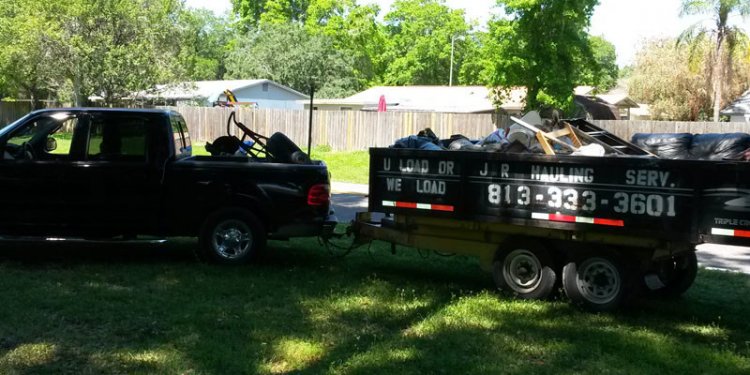 Junk Removal Brandon FL
Nothing takes up more space than old furniture. The couch in the basement that no one sits on, the table and chairs in the garage that only come out for poker night, and the rocking chair that's abandon in the attic – they all take up valuable space. If you're looking for furniture removal in Brandon, you're looking for 1-800-GOT-JUNK?! We'll take your old couch, your chairs and table, and the rocking chair and haul them away. Don't waste your valuable time trying to figure out how to get them down to the dumpster, give us a call and we'll carry them out for you – along with any other junk you have. Just point and junk disappears!
Brandon Junk Removal Services
Whether you're a home owner, renter, or business owner, 1-800-GOT-JUNK? can destroy the junk that's creeping across your property. We've been in business since 1989, and never met a pile of junk we couldn't defeat. Here are some of the things we've hauled away:
old furniture, including couches, beds, and shelving
construction debris, including dry wall, carpet, and concrete
retail items, including display shelving and manicans
yard waste, such as gravel, rocks, and branches
all kinds of non-hazardous junk!
If our two man crew can lift it, we can remove it from your property.
Our Affordable Prices
Throughout our years of service in the battle against junk, we've managed to keep our prices remarkably affordable. The secret? We don't charge per hour, instead we only charge you for the amount of junk we remove. We believe that you can do a good job fast if you've been properly trained – and as friendly as we are, we understand that you don't want us hanging around your property all day. That's why we remove junk as fast as possible – at no extra cost to you.
Our Eco-Friendly Program
We recycled before it was cool – that's why we understand that you don't want your unwanted possessions ending up in a landfill if they don't belong there. Fear not! Our team is educated on responsible waste disposal. This means we take the time to sort through your junk and determine what should be tossed, what should be recycled, and what can be donated. For example, when we remove furniture from a property, we often find that it's still in decent condition – in which case it can be donated to a worthy charity. By choosing 1-800-GOT-JUNK? for your waste disposal needs, you're choosing a company that cares – in both words and actions.
Commercial Junk Removal
We don't just help homeowners – we help commercial businesses too. Whether you're a construction company that needs a cleaner site, a property management firm that need a tenant's apartment cleared out, or a retail store that needs to downsize, we can swing by and remove your junk for you. Just point and junk disappears!
The 1-800-GOT-JUNK? Junk Removal Process
Wondering how we're going to remove the junk from your property? Here's the breakdown:
You call us and request a quote. We'll send a two man crew to your site to give you an estimate, based on the volume of junk present. This estimate is free and comes at no-obligation.
You accept the quote. Yay! It's time to start hauling some junk!
We scale mountains, traverse rivers, and hike through deserts to remove the junk from your property. Show us what we're up against!
After the junk has been removed, we clean the area. There won't even be a shadow of junk left in the area!
You pay us according to the volume of junk that was removed.
We impress you so much with our awesome customer service that you tell your friends!
There's no need to let junk take over your living space and stress you out. Give us a call, and we'll re-introduce relaxation into your life.
Share this article
Related Posts