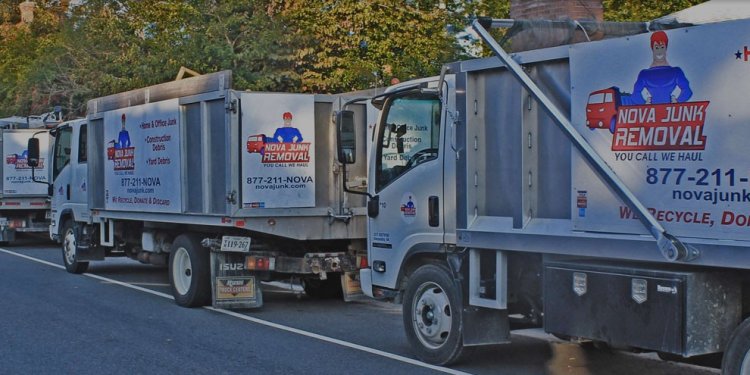 Cheapest Junk Removal company
San Diego, CA 92106
(858) 751-4773
Jake and Zach were fast and efficient and friendly. They were respectful of my building and played with my dog.
I spoke with Jake earlier this week via telephone a week in advance of my need for help. Super friendly, easy-going, professional and fit me right in on the schedule. Couldn't have been happier with the result. Zach and his partner were early and finished quickly and impressively. I would and probably will be calling them again. Excellent job.
Awesome!! I called and scheduled a time for the next day and he definitely pulled through for me. He's absolutely fantastic at communicating & his price is extremely reasonable. Very professional as well!
This dude is FAST. He had called me back, came to my house, grabbed a wardrobe, desk and a rug with in 3 hours. Great price and very professional hard working. I defiantly recommend.
Great service! My husband call them yesterday and they schedule an appointment the next day. The guys were polite and very quick. It took them maybe 15 minutes to remove the junk in our garage. I was even running a few minutes late and they waited on me! Oops! Highly recommend! Thank you!
Called them this morning and was greeted by the rudest person I have ever encountered. I said hello my name and that I looked them up on Yelp and asked how he was doing and he abruptly cut me off and said I'm not interested. How's that for a first customer meet and greet? Update, Just got a call back there was a complete misunderstanding as they thought I was soliciting Sales. That was a big relief! Will provide an additional update later.
These guys are awesome! Called yesterday and he gave me a super fair estimate with pictures I texted him. They were super fast in loading it up and really nice. They even took an extra load for the same estimate that they were not expecting. I will definitely use them again!
***Could not have been a better experience.*** INEXPENSIVE - especially compared to all the other companies and given that it's around a $40 disposal fee at the landfill for a couch if you try to dump it yourself. EASY TO SCHEDULE - quick phone call and a text message later, we were all set and he was flexible enough to make it work around my schedule. He was RIGHT on time, which was really important since I had to leave for work right after. NO EFFORT BY ME! - I didn't have to do a thing. He moved the whole couch himself!
I called several companies to give me a quote for my junk removal. Not only were they the first to respond to my request, they were also available on the day I needed the junk removed. Their prices are very reasonable. As I was informed on the phone, they sent me a text when they were on the way and called me when they arrived. They also showed up early and removed my junk in record time. My only regret was not finding them sooner. I will definitely be referring them to friends and family.
Jacob saved my life...ok maybe that's a little melodramatic, but I can say that he saved my back! Not only did he do a fantastic job of cleaning up all of the junk from an RV I had totally gutted, he did it fast, and affordably. He did it at a price point that made renting a trailer and doing it myself more expensive than having him do it. I very highly recommend him for any of your junk removal needs!!
Jacob came out the same day as my call and removed a broken refrigerator, charging what he said he would charge over the phone. I highly recommend him. He was prompt, courteous and reasonably priced.
I was very hesitant about calling a junk removal company. I worried about the unprofessional nature of the business and expected a dirty junk truck pulling into my neighborhood and watching my children play. The service I received was extremely professional and the young man, I believe his name was Jacob, went out of his way to make sure that I was completely satisfied. I'm not sure if this kind of service warrants a tip, but he received a very generous one from me. I will gladly call this company again if I need any other junk removed.
great guys, awesome quick service at very reasonable price, so when you have stuff, that you want to get rid of, call them you won't regret it.
I had an old recliner that was so beat up I couldn't even give it away, but I wasn't quite sure what to do with it. I checked with the dump only to find I would have to pay $30 to dump it myself and would have had to jam it into my small SUV to get it there. I considered the junk removal guys who always hang out at the local Home Depot, but I wasn't comfortable with that. No disrespect to them- I'm sure they work very hard- but I don't know them. So I decided to Google "Point Loma Junk Removal, " and up pops Jacob on Yelp. I liked the reviews, gave him a call, was quoted $50, and he was here within the hour. So the old recliner is on to its next incarnation, and my new one will (hopefully) be here later today. Thanks Jacob. You have my recommendation- especially for anyone in the beach areas and Point Loma.
Jacob and his buddy are incredible. Came when they said they would, hauled everything out and even swept my garage. Excellent. I asked him if they would move some stuff for me and again, texted me frequently throughout the day with updates as to when they would be there. Friendly, efficient and reasonable. Highly recommend them.
I was also skeptical about hiring someone to remove my junk rather than try to do it myself. Jacob made me a believer in hiring someone for junk removal. He was very flexible on the pricing, and I don't think anyone out there would have given me a better deal. Though he handles this effort via a big pickup truck, I was amazed by how much he squeezed in. Great job Jacob!! And, thanks for responding and knocking the removal for me so quickly.
I called Jacob in the morning, he returned my call within 1/2 hour. The estimate he gave sounded good and they came early in the afternoon, efficiently hauled out the junk and were gone within 1/2 hour. Easy-peasy (for me!), and the price was reasonable. Great job!
Share this article
Related Posts