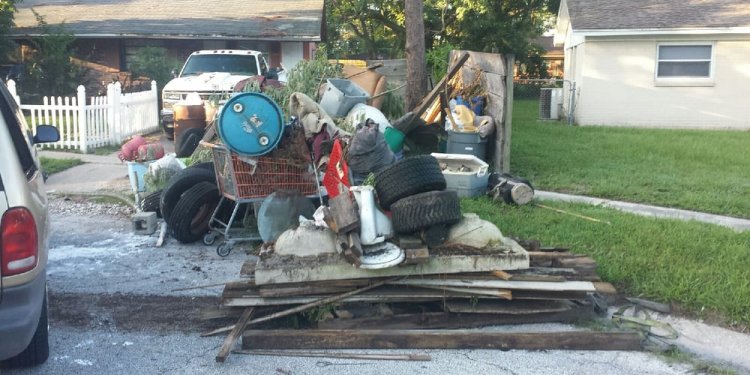 American Junk Removal Services
10370 Central Park Dr
Manassas, VA 20110
(703) 368-0500
I have been a loyal ADS customer for a long time, even back in the days when they were called AAA. I initially negotiated a good rate but every year since then the rate has steadily increased. Until now I have always been able to negotiate something lower than the increase without a hassle. Not so this time. Although a customer service rep gave me a small discount, this was reneged hours later by some supervisor. I've never heard of any sound business practice like that. So on that account, I would give 0 stars. The service has been decent for the most part. Recently we had missed collections, especially yard waste, and I had to call for service. Most of the time they come but sometimes if I discover this later in the afternoon, I have to wait until next collection. Occasionally, the trash can does not get emptied out completely and literally half my trash still sits at the bottom. I also had to call for that but I had to wait until the next collection to get rid of the remaining bags. All things considered I give trash collection 3 stars. Although most customer service reps are friendly at ADS, they seem to have a standard repertoire of phrases when they can't (or don't) want to answer your question. Excuses are made and many stories told (many of them not true!). Price hikes were explained with rising gas prices. Now that the gas prices are way down, increases are justified because of rising landfill fees. Nobody can verify if any of this is true. All I know is that ADS's prices never stay stable and continually rise. They know we need them and there is no better service or price to be had with the limited competition in the area. I would love to go rogue and quit trash service altogether.
NOT OUR PROBLEM, DUDE I have been trying since last week to get a simple request fulfilled: remove a container that is not mine from my property. Should be a no brainer, but they managed to screw this up and refused to take ownership of the problem. Their CSRs know nothing and couldn't care less about correcting their mistakes. I will be doing everything within my power to ensure that their trash removal contract for my community is not renewed.
Masters at cancelling scheduled pickup every time there is any hint of weather. These guys are pansies! I lived in Colorado where there was way more snow weather and our service may be DELAYED a day or two, but American CANCELS service until the next week. And as to be expected, there is no credit for the trash that piles up at your home. This year they have missed two pick ups so far and Winter is still going. The "service" I'm referring to is in Winchester. Our neighborhood has a Nextdoor website and quite a few customers have left them for other reasons such as dumping the recycle trash in the regular trash, leaving cans knocked over on the driveway, and trash that's blowing out of the truck- they don't even pick up their mess. They also drag race the trucks through the neighborhood! Freaking SLOW DOWN! Conversely, previous companies I've used in Colorado I absolutely loved them and the drivers and always gave them a thankful tip every Christmas. Yeah right, American.
It snows Monday night, roads and our neighborhood streets are completely clear by Tuesday morning. And although our normally scheduled pick up doesn't occur until Tuesday late afternoon, they never came. And when I called on Thursday morning about the status, I'm told that they won't be coming out until next Tuesday??!! Ridiculous. Our neighbors who use AAA had their trash and recycle picked up on Tuesday as normally scheduled. Apparently we need to switch companies.
Just got off the phone with customer service - rude and unprofessional. I was "disconnected" with the first person I started to talk with. The next person I spoke with placed me on hold without telling me. American trash did not pick up my lawn/yard debris AGAIN. I have had to call them in the past, several times, for missed pick up. Was told the lawn/yard debris would be picked up next week. I told them I wanted it picked up today. Customer service rep just put me on hold without telling me to "please hold" came back on phone stating manager said pick up would have to be next week. I told the rep to cancel my service - put on hold again, then disconnected. Horrible customer service. Looking elsewhere for trash service.
if i can give ZERO stars i would Lousy customer service, they just don't care, many missed pickups for no reason, called them several times and speaking with several representatives, customer service simply don't care... you will regret signing up with them.
For the second time this month American Disposal employees have dumped my entire recycling bin, in with the general trash. Over a month of our efforts now has been wasted and the environment suffers as a result. I don't know if it's just laziness or what...
Share this article
Related Posts