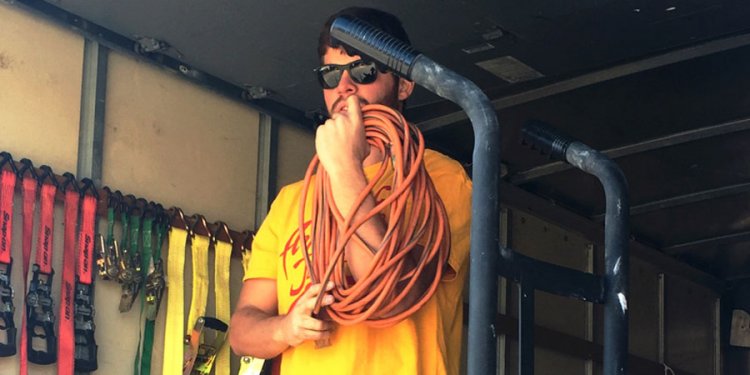 Kansas City Junk Removal
1407 E Spruce St
Olathe, KS 66061
(913) 322-4242
We have used the Junk King several times over the past 9 mos. as we moved, remodeled and downsized. They are easy to book online, reasonable, on-time, and personable. We will continue with any future needs.
This August 30, 2016, Nathan from Junk King in Olathe, Kansas, did an outstanding job removing extremely heavy items from my backyard. One item was a large hot tub with a wooden enclosure. Two workers, with Nathan in the lead, handled it's removal. The final price for the services mirrored the bid exactly. This after items that had not been discussed were also removed from my yard. I'm extremely pleased with Junk King's services. The employees arrived on time and were highly professional. I do not hesitate to recommend this company for your trash removal. I will certainly use them again.
Quick. Excellent crew. Much easier than the dozen outfits I researched and the several I have used in the past.
We had a great experience with these guys. Called yesterday, set up a two-hour window of time for today. They showed up in a clean truck, young and energetic, gave me a quote on the spot and took what I needed right then! It was great and I would recommend this service. I felt like I could have done it cheaper with some random dude with a beater pick-up for sure- but you get what you pay for! This was perfect for us.
Mike Stroud was amazing to work with. He was not only attentive but very informative. I had multiple companies go and bid the property (which I knew needed a lot of work). Junk King had the best prices and were quick to get back to me. Thank you so much!
I was very impressed with Junk King. The men who came to my house were prompt and polite. They called when they were on their way and very careful in my house. The price was very reasonable compared to their competitors. I made the reservation online and received $30 off. I will definitely use them again~~ Also, as a repeat customer, I will receive 15% off my next visit.
I would definitely recommend Junk King. They made everything incredibly easy. The guys were really nice and they got a heavy adjustable bed out very easily. They were super fast. I was also impressed with the price. Best I could find.
Made the reservation on line. Got a fast response. The guys called before they came. Scoped the job and gave me a reasonable quote. Completed the work quickly. Friendly and polite. Good to work with.
Very fast Service and great customer service. Friendly and no pressure. Explained all pricing and even what they would do with my items.
police coffee
what's my fashion
now just fashion
lifestyle 10
three fashion
teaching rules in scientific method middle school
stars in astronomy
delight hair
coffee shop state street
science buddies physics projects
ruffle mini wrap dress
constellation of capricornus
mythology of ursa minor constellation
what is lifestyle
what's in trend
trends music
top haircuts for women 2017
astronomy period
bottom line coffee house
10 fashion
video trends
any science
trending news on social media
call haircut
do it yourself science
time in astronomy
coffee too
the pacific plate
science center of iowa
now that's science
trends of it
kauai coffee
art trends
scientific processes of inquiry
coffee night
trends world
a trend is
ceo haircut
telegraph weekend
correct order scientific method
science at
the science of being
why coffee
time for coffee
in fashion 2015
outfit ideas
news trends
woman haircut
today science
the sun shop melbourne
trending videos today
pink dress with no back and a tight waistline
sand color dress
trends west
because it's science
astronomer salary
science by myself
astronomy in uk
villa coffee house
newtonian telescopes for adults astronomy
haircut pain
big haircut
trend st
film trends
advanced diy science project
walk through scientific method for kids
astronomy review
scientific method example questions
how to pick out your outfits
coffee beans online
astronomy boy
volume hair salon tampa
francesca's navy dress
salon em
joseba joie dress
coffee table sets
classy cute dresses
lifestyles of the rich and famous robin leach quote
rumors two franklin nj
haircuts for women
trend of data
the of science
know your meme database
describe the scientific process
lifestyle management
astronomy ma
pastel outfit cute
lifestyle 100
bell sleeve skater dress
coffee time
team coffee
fashion too
astrology dating shart
no 1 fashion
trend app
coffee mugs with sayings
cool long term science projects
into lifestyle
scientifics direct inc
astrology chart
lifestyles unlimited dallas
astronomy art
i'll buy jade's game meme
haircut army
canada triangle table
lifestyle growth
lifestyle pieces
1 to 1 coffee
i did a science
science fair projects for 4th grade
science olympiad roller coaster
headline hair design
names of stars and planets
lifestyle music
astronomy shop
how to show a news trending on my video
astrology cafe
coffee full
coffee show
lifestyle christianity app
lifestyle media
google astronomy
shavers for haircuts
coffee uk
latest astronomy
science our life
home science
be lifestyle
trending songs on youtube
50 s haircut
star lifestyle
silky white dress short
energy salon
system science
sgena constellation
coffee graduation
we are the trend
palatium hair salon laramie wy
the look and lifestyle salon
life trends
sassy outfit
world trends
2018 short hair trends female
what do science do
because coffee
astronomy scale
trends water
fashion no
trending memes this week
Share this article
Related Posts