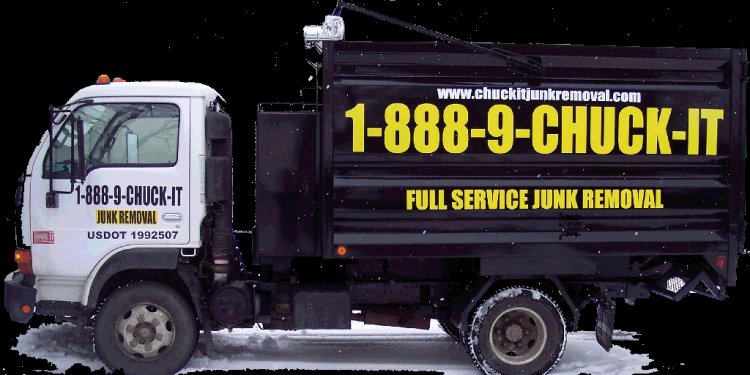 Chuck It Junk Removal
2822 N Hacker Rd
Howell, MI 48855
(734) 212-1088
If I could give more than 5 stars, I would. Family owned junk removal service who's rates are competitive and who's level of professionalism, attention to detail and thoughtfulness are fantastic. They work hard, fast and do things to help you save money that other junk removal services don't. They were also trustworthy, people I wouldn't have hesitated to have in my house, or with my elderly mother, alone. They made the experience fun, which I hardly thought would be possible. In fact, they provided a huge weight off my shoulders and a sigh of relief for what was a daunting junk removal job. I'd highly recommend them for any residential or commercial job. I will absolutely hire them again on my next job.
Very positive experience with this company. The price was good, but the service was good as well. Everyone involved was courteous and friendly. They worked quickly and efficiently. I'd use them again for a similar job.
Brad was responsive and flexible, he and his crew were super friendly, worked fast and efficiently. They charge by the load size and pack things so it takes up the least amount of room. I am looking for more opportunities to get rid of junk because it was such a pleasant experience working with them
The Chuck-It team came to the rescue! I had a 9, 000 square foot garage clean out project dropped in my lap at the last minute. If it wasn't taken care of within days it was going to delay the closing of a large real estate transaction. One call to Chuck-It and they made it happen. They exceeded every expectation! CALL THESE GUYS!
Company was very prompt and easy to deal with. Had a issue with my deck being damaged during a hot tub removal. I will say that owner was very responsive and came out personally right away to help resolve my issue. The deck was resolved to my satisfaction, and I would recommend this company for your hauling needs. Only reason not a 5 star is because there was an issue, but sometimes a company's worth is determined on how they react. In my case, the ownership reacted quickly and dos what they could to resolve. I would use again in the future.
Brad and his 2 workers showed up early, and finished the job in 2 hours. They cleaned everything up, charged what they promised. I would highly recommend their services for any major removal job.
I was referred to Chuck It Junk Removal as a company that could remove and haul away an old hot tub by a friend. And indeed they did! I was able to schedule an appointment that fit my schedule, the price was more than fair, and the clean up made it look like the hot tub was never there. Spotless. I can highly recommend them for hauling junk - and I will use them again for sure. Don't waste your time shopping this service - I did that, and found the right company in Chuck It Junk Removal!
These guys are amazing. We had a sewage flood which took out most of basement contents. They came within 36 hours of the original call and took out all of the stuff that wasn't salvagable for an amazingly reasonable price. We had also asked them to take some old windows that were in the basement and with all the chaos of the other stuff those were left. We called them and put them outside and within 24 hours they came back and took those too. I highly recommend these folks. They are kind, honest, work hard, and really responsive
We just moved my elderly parents into a new home in Livonia and needed to have the current one in Farmington Hills cleaned out. Brad and his crew removed a number of items from our basement, garage, living room, and other places we designated. They asked a lot of questions along the way to ensure the right things were removed. From the initial inquiry onwards, Brad was very communicative and explained the process very clearly. The price was also competitive. I always prefer to support local, family-owned businesses, and Chuck It fits that bill. We also liked the fact that they recycle a significant amount of the items they collect. The more we can do for the environment and reduce things going into landfills, the better.
Share this article
Related Posts