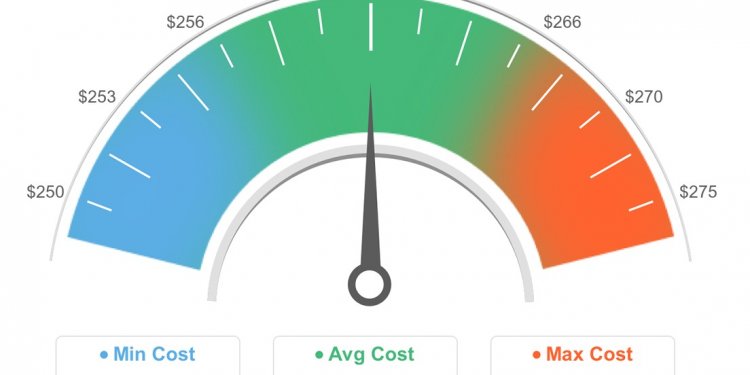 Junk Removal Newburyport MA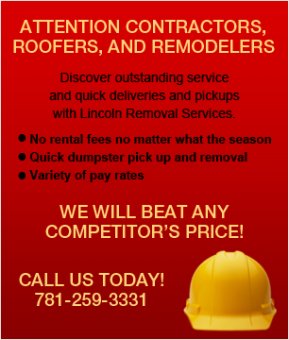 Clean Outs
Remove the junk and the stress with affordable Clean Out services from Lincoln Removal Services.
Need help moving or filling your dumpster and cleaning out that construction project or basement? Lincoln Removal Services provides you with a courteous professional crew to work with you to get the job done correctly and on time.
Our team works hand in hand with many real estate companies, moving companies and homeowners.
Many real estate companies depend on Lincoln Removal Services to ensure homes are prepared for closing. Our team disposes of unwanted items (paint cans, old TV's, air conditioners, refrigerators, etc.) and recycles items left behind as needed. Don't let anything delay or risk your closing; let our team of professionals get the job done right.
Lincoln Removal Services is the trusted Clean Out and removal team for companies and homeowners across Massachusetts because our team understands the importance of getting the job done on budget and on time.
No project is too big or too small. Our Clean Out Services can be used for garages, basements, attics, sheds, crawl spaces, barns, offices, whole home clean outs, buildings, and more.
Moving?
After all the furniture is removed have us come and cleanout the rest. Many homeowners have our dumpster on site and have the movers fill it with the unwanted items. Or just leave the rest and we will remove it. The professionals at Lincoln Removal Services can leave it completely clean of all items and broom swept. Ready to be cleaned!
Discover how fast, affordable, and hassle free a clean out can be with Lincoln Removal Services. Contact us today.
Pick Ups
One Time Pick Ups are a popular and affordable service that saves you time, money, and stress.
Do you just have one or two items you'd like Lincoln Removal Services to Pick Up? You do not need a container or a Clean Out crew, just one or two items that are too heavy to lift or a hassle to move yourself?
Call us to remove it. We have taken pianos up flights of stairs, Removed old huge obsolete boilers from basements, hot tubs that were built around and too large to fit out a door way. No matter what the item is Lincoln Removal Services can handle it. Big or small!
Another very popular and cost effective option is to just leave a pile for our team to pick up. Make a pile of unwanted items and call us. We will stop by quote a price and remove it on the spot! No mess, no wasted time, and you don't even need to be there! We can do the whole transaction over the phone.
Common items we remove include refrigerators, air conditioning units, paint cans, appliances, wood, construction debris, scrap metal, batteries, furniture, roofing, basketball hoops, tires, and more.
Whatever you have to be removed, call us and we can pick it up.
Contact us for your affordable One Time Pick Up today!
Recycling
Lincoln Removal Services understand the importance of recycling and our team of professionals takes all appropriate steps to protect the environment. Reduce, Reuse and Recycle is a term loosely thrown around, but Lincoln Removal is genuinely dedicated to this motto. Our team utilizes some of the most modern and efficient recycling centers in the country, some of which are located here in Massachusetts and within our service area.
Disposing of items in the correct manner is not just better for the environment but it can be cost effective and money saving as well. Why dispose of items in the landfill when they can be recycled and even reimbursed for their scrap value?
Lincoln Removal recycles these items and many more:
Scrap Metal
Construction Debris
Roofing Materials
Paper
Cardboard
Plastics
Freon (Reclaimed from Fridges and AC Units
Large Appliances
Tires
Wood
Concrete
Organic Green Waste (Trees, Brush, Grass and Chips)
Horse Manure
Contact us with questions, comments, or special requests regarding recycling your junk or item.
Tractor Work
Lincoln Removal Services provides affordable reliable tractor work services to both residents and businesses throughout Massachusetts.
Our professional team can help you create a cleaner environment quickly and hassle-free. Lincoln Removal tractor work will remove unwanted materials such as brush and asphalt, maintain your landscape, and even push back your snow banks at your office or home during the winter.
Our tractor work services include materials spread, york raking, driveway grading, horse paddock clean out and haul away to remove all old horse manure, driveway regrading to eliminate bumps and puddles, and many more.
Remove the stress and hassle from cleaning your home or work environment with quick, easy, and affordable tractor work from Lincoln Removal Services.
Call to set up your free consultation today at 781-259-3331.
Service Area
Middlesex County

Acton, MA
Groton, MA
Sherborn, MA
Arlington, MA
Holliston, MA
Shirley, MA
Ashby, MA
Hopkinton, MA
Somerville, MA
Ashland, MA
Hudson, MA
Stoneham, MA
Ayer, MA
Lexington, MA
Stow, MA
Bedford, MA
Lincoln, MA
Sudbury, MA
Belmont, MA
Littleton, MA
Tewksbury, MA
Billerica, MA
Lowell, MA
Townsend, MA
Boxborough, MA
Malden, MA
Tyngsboro, MA
Burlington, MA
Marlborough, MA
Wakefield, MA
Cambridge, MA
Maynard, MA
Waltham, MA
Carlisle, MA
Medford, MA
Watertown, MA
Chelmsford, MA
Melrose, MA
Wayland, MA
Concord, MA
Natick, MA
Westford, MA
Dracut, MA
Newton, MA
Weston, MA
Dunstable, MA
North Reading, MA
Wilmington, MA
Everett, MA
Pepperell, MA
Winchester, MA
Framingham, MA
Reading, MA
Woburn, MA
Essex County

Amesbury, MA
Lawrence, MA
North Andover, MA
Andover, MA
Lynn, MA
Peabody, MA
Beverly, MA
Lynnfield, MA
Rockport, MA
Boxford, MA
Manchester, MA
Rowley, MA
Danvers, MA
Marblehead, MA
Salem, MA
Essex, MA
Merrimac, MA
Salisbury, MA
Georgetown, MA
Methuen, MA
Saugus, MA
Gloucester, MA
Middleton, MA
Swampscott, MA
Hamilton, MA
Nahant, MA
Topsfield, MA
Haverhill, MA
Newbury, MA
Wenham, MA
Ipswich, MA
Newburyport, MA

Norfolk County

Avon, MA
Foxboro, MA
Randolph, MA
Bellingham, MA
Medfield, MA
Stoughton, MA
Braintree, MA
Medway, MA
Walpole, MA
Brookline, MA
Milis, MA
Wellesley, MA
Brookline Village, MA
Milton, MA
Westwood, MA
Canton, MA
Needham, MA
Wrentham, MA
Dedham, MA
Norwood, MA
Dover, MA
Quincy, MA
Suffolk County

Allston, MA
Dorchester, MA
Revere, MA
Boston, MA
East Boston, MA
Roslindale, MA
Brighton, MA
Franklin, MA
Roxbury, MA
Charlestown, MA
Jamaica Plain, MA
South Boston, MA
Chelsea, MA
Mattapan, MA
Winthrop, MA
Worcester County

Ashburnham, MA
Hopedale, MA
Shrewsbury, MA
Auburn, MA
Hubbardston, MA
Southborough, MA
Barre, MA
Lancaster, MA
Spencer, MA
Berlin, MA
Leominster, MA
Sterling, MA
Blackstone, MA
Lunenburg, MA
Sturbridge, MA
Bolton, MA
Mendon, MA
Templeton, MA
Boylston, MA
Milford, MA
Upton, MA
Charlton, MA
Millbury, MA
Uxbridge, MA
Clinton, MA
Millville, MA
Webster, MA
East Brookfield, MA
New Braintree, MA
West Boylston, MA
Fitchburg, MA
Northborough, MA
Westborough, MA
Gardner, MA
Northbridge, MA
Westminster, MA
Grafton, MA
Phillipston, MA
Winchendon, MA
Harvard, MA
Princeton, MA
Worcester, MA
Holden, MA
Royalston, MA
Bristol County

Attleboro, MA
North Attleboro, MA
Plymouth County

Bridgewater, MA
Hingham, MA
Scituate, MA
Brocton, MA
Hull, MA
Wareham, MA
East Bridgewater, MA
Marshfield, MA
West Bridgewater, MA
Hanover, MA
Plymouth, MA
Franklin County

New Salem, MA
Rowe, MA
Hampshire County

Ware, MA
Share this article
Related Posts