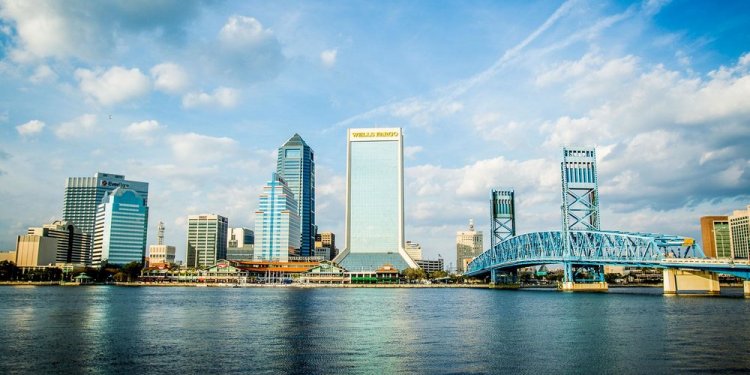 Junk Removal Jacksonville FL
Have you been paying rent to a storage facility for items that you don't even remember? Are you a property manager that needs to prepare a home or building for new tenants, or are you just ready to reclaim your garage, basement, or attic? At 1-800-GOT-JUNK?, we specialize in helping people just like you get rid of their clutter and unwanted items. We are the world's largest junk removal service, and we have provided trusted junk removal since 1989. We're in your neighborhood, so give us a call today and show us what we're up against.
Happy to Help
At 1-800-GOT-JUNK?, we've become the most trusted junk removal service by providing transparent pricing, clean, spacious trucks, and friendly, uniformed junk removal experts. We love taking on any junk removal challenge, so whether you're getting rid of a single item or you want to clear out an entire home, we're up for the task. Our pricing plan is based on volume, so you only pay for the space that your unwanted items take up on our clean, spacious truck. No surprises, no gimmicks; just efficient junk removal service with a smile.
Serving the Local Businesses of Jacksonville
We're proud to serve the local businesses of Jacksonville, providing junk removal services that are efficient and reliable. We help you maximize the effectiveness and productivity of your business by assisting you in clearing out the clutter. We know that your time is valuable, which is why we show up right on time, get to work, and then make our exit, all in record time. Whether you've recently completed a renovation or remodel or you just want to clear out a room or closet, we're happy to help!
What Do We Take?
Our Jacksonville junk removal experts love to tackle challenges of all sizes, from bulky, outdated appliances to the paper clutter that has taken over your basement. If your junk can be lifted by a team of two experienced junk removal experts, it can go! Items that we commonly take include:
Sofas, love seats, and lounge chairs
Patio furniture
Televisions
Stereos
Sound systems
Computers and laptops
Construction and renovation debris
Office furniture and equipment
Scrap metal
Old tires
Once you're ready to get rid of the junk, just give us a call! You don't even have to gather your unwanted items; we'll take care of the entire job, from gathering and sorting to loading and disposing. We'll even sweep up after ourselves when we're done. Goodbye junk. Hello relief!
Where Do We Take It?
Everyone enjoys getting rid of clutter and maximizing their space, but how do you dispose of your unwanted items? Throwing everything out with the weekly trash may be an easy option, but it certainly isn't the most socially or environmentally responsible one. In fact, there are several items, such as computers, electronics, appliances and scrap metal that should never be taken to the landfill. At 1-800-GOT-JUNK?, we recycled before it was cool! We take your unwanted items and sort them, taking as much as possible to local charities and recycling facilities. We only take your junk to the landfill when there is no other option, so you can be sure that when you work with us, you're disposing your junk in a way that is safe for the environment.
Goodbye Junk. Hello Relief!
If you're ready to say, "Goodbye junk; hello relief!" then give us a call or connect with us online to learn more about our services and to schedule your junk removal. We're in your neighborhood, and we're happy to help!
1-800-GOT-JUNK? Jackonville is your solution to junk removal! Operating our 1-800-GOT-JUNK? franchise in the Jacksonville area, we offer junk hauling services to residential and commercial clients in the heart of Jacksonville, St. Augustine, Neptune Beach, Fernandina Beach, Atlantic Beach, Ponte Vedra Beach, Julington Creek, Orange Park, Riverside, Ortega, Green Cove Springs and many more! Our junk removal team specializes in helping you regain your space. You don't need to lift a finger, just tell us what you want removed and our rubbish removal experts will do the rest, including a general clean up of the area. Whether you have junk in your house, garage, outside or at the office, we can take it. Offering free estimates and same-day service, we are your one stop shop for junk removal! We look forward to removing your obstacles. Watch what we do.
Share this article
Related Posts