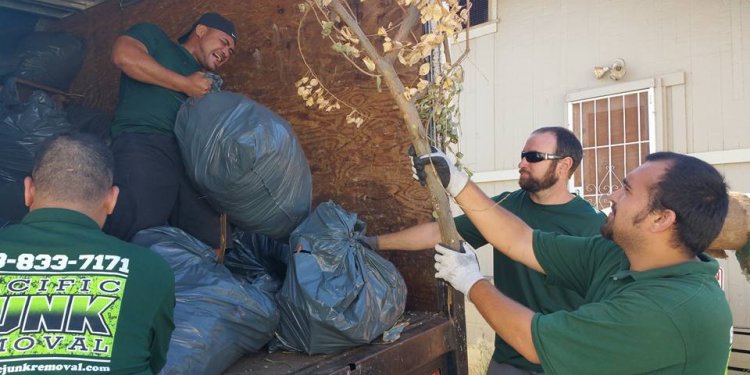 Junk Removal Honolulu
Have you recently replaced an old appliance, and now you're trying to find the simplest way to get rid of it? Bulky appliances are not only difficult to move, but finding an easy and environmentally friendly option for disposing of them is a challenge. At 1-800-GOT-JUNK?, our junk removal experts are happy to help.
What We Do
When you're ready to dispose of your old appliance, simply give us a call or use our convenient online booking tool to schedule a pickup time. In many cases, we are able to provide same-day service. When our friendly, uniformed junk removal experts arrive to your home or business, we will discuss items that need to go and provide you with a no-obligation, all-inclusive price quote.
Our quotes are written and guaranteed, so you never have to worry about unexpected fees. Then, we'll take your appliances from wherever they are; no need to move them yourself, we'll take care of the entire job. We'll sweep up after ourselves, and then we'll be on our way.
Recycling Old Appliances
Honolulu's weekly trash pickup may be willing to take your old appliance, but is the landfill really the best destination for it? Appliances are made of metal, a finite resource that is expensive, time-consuming, and potentially hazardous to the environment to extract. Because metal is so easily recycled and reused, it should never end up in a landfill.
Additionally, the wiring in your old appliance contains heavy metals that, when disposed of in a landfill, can find their way into our soil and waterways. This has a significant impact on plant and animal life. Sending your old appliance to a recycling facility is a far better option.
At 1-800-GOT-JUNK?, we're dedicated to handling your working and nonworking appliances in a way that is socially and environmentally responsible. Once we've taken your old appliances, we will donate everything in safe, working condition to a local charity. Appliances that cannot be donated will be taken to a designated recycling facility. We're as committed as you are to keeping our city beautiful; in fact, we recycled before it was cool!
What About Bulk Pickups?
Are you reaching out on behalf of an apartment complex, a senior community, a college campus, or anywhere else where a bulk pickup is required? We can help! When you contact us, just let us know how many appliances need to go, and we'll assemble a team of old appliance disposal experts. We'll arrange for a pickup at a time that fits into your busy schedule, causing as little disruption to your day as possible.
What Else Can We Take?
At 1-800-GOT-JUNK?, we aren't just your Honolulu old appliance disposal service providers. Our junk removal experts can help you get rid of any type of junk, enabling you to free up space and simplify your life in record time. We can haul away anything that can be lifted and loaded onto our truck by two able-bodied junk removal experts. We'll take care of the entire job; you don't even have to gather anything up. Just point and junk disappears!
Items that we can take include:
Office equipment and furniture
Yard waste
Renovation and construction debris
Mattresses and bedroom furniture
Living room and dining room furniture|
Scrap metal
Tools, auto parts, and old tires
Old collections
Paper clutter
Unwanted clothing
And more!
Once we've collected your unwanted items, we'll even sweep up after ourselves. With 1-800-GOT-JUNK?, it's easier than ever to say, "Goodbye junk. Hello relief!"
Happy to Help
When you're ready to get rid of that old appliance that is taking up space in your garage or basement, give us a call or reach out to us online. No matter how big or small your junk removal challenge, we're happy to help. Our friendly, uniformed junk removal experts may be there as early as today, providing you with quick and hassle-free service. We're in your neighborhood, so call us today and show us what we're up against!
Getting rid of your junk is easy with 1-800-GOT-JUNK? Oahu. Offering full-service junk removal from the heart of Honolulu, to Waikiki, Kahala, Hawaii Kai, Kaneohe, Kailua, Aiea, Ewa Beach, Kapolei, and more. Do you have junk cluttering your house, apartment, garage, backyard or office? We are your solution to regaining your space! We take all kinds of junk, including old furniture, appliances, yard waste, construction and renovation debris, random household junk, and office equipment. If you don't need it, we can take it! Our junk removal services offer same-day bookings and include all the lifting, sorting, loading, recycling, donating and disposal. All you have to do is call 1-800-GOT-JUNK? so our junk removal experts can give you your space back! Watch what we do.
Share this article
Related Posts