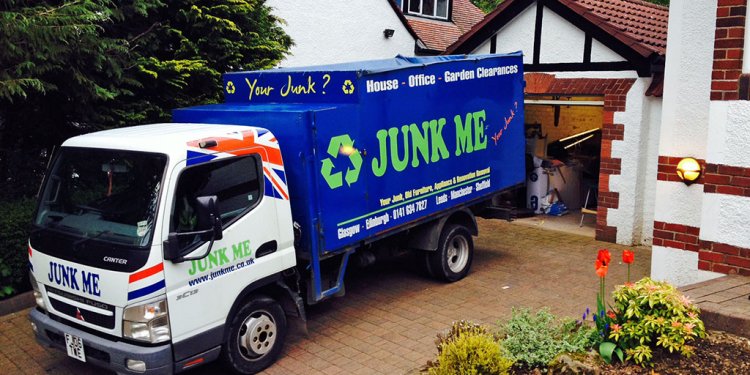 Junk Removal Glasgow
Do you have an unsightly pile of junk somewhere in or around your house. Perhaps you have old unwanted junk or rubbish in your attic, in your spare room, garage, kitchen, utility room or garden. Do you dread the task of clearing junk. Are you daunted at the task of shifting your junk?
House Clearance in Glasgow and Edinburgh
We provide house clearing services in Glasgow. As Scotland's original house clearing junk service Junk It Scotland have a wealth of experience in removing junk from houses in Glasgow and surrounding areas. We can help you in removing junk from your house, attic, garden and garage.
Since our formation in 2006 we have rapidly grown to become Scotland's largest house and office clearance and junk removal company with depots in Glasgow, Edinburgh and the Central Belt.
House Clearance Services Examples
If you need your house cleared of household junk or rubbish Junk It can help you clear your junk in a responsible fashion. Some typical things we do for households include:
House and flat clearances
Garage clearances
Attic clearances
Basement clearances
Garden clearances
Kitchen and bathroom disposal
House Clearances Items
We remove all types of junk and unwanted rubbish from houses when we clear them for our customers. We remove them from your house, garden shed basement quickly, cleanly and efficiently, with the minimum of fuss and disruption to you and dispose of them in a responsible fashion. Some typical tasks we undertake when clearing houses and flats include:
Lift, remove and dispose of carpets, flooring and white goods including fridge removal and washing machine disconnection and removal.
Provide paper shredding and secure document disposal
Remove Computer and I.T. equipment
We do NOT fly tip junk (which a lot of people still do!) but rather we dispose of junk in accordance with the latest legislation and guidelines. As a responsible Junk Removal and house clearance business we comply with all the relevant guidelines ensuring that you are kept on the right side of the law and we maintain a nice world to live in for you, your children and everyone to enjoy.
How Our Household Junk Clearance Service Works
Our house Clearance Service is an excellent way to take the stress out of clearing your home, garage, attic or even your garden. Whether it's clearing up after some home improvements, or perhaps removing some clutter to get back some valuable space, our Junk Removal Service can reclaim your space in 4 simple steps:
Arrange a No Obligation Visit

We Clear Your Junk

We Responsibly Dispose of Your Junk

Our company mission is to eliminate the stress and hassle created by removing rubbish from your property.
Trained and Uniformed Staff
Not only are our staff fully trained and insured for the work they do, they, also, wear boot covers to protect your home. Each clearance we undertake, we promise to treat your home with the utmost respect. Make sure you choose a qualified, responsible, trustworthy and experienced business when clearing junk an rubbish from you house. Contact Junk It on 0141 433 4330
pilates instructor
policeone academy
b pharmacy course
niche indiegogo
stem learning
idea generation in entrepreneurship
ems1 academy
lady startup
fundraising sites like gofundme
best startup ideas
best real estate platforms
real estate investment platform
ite courses
enterprise cobb parkway
retail entrepreneur
setting up a social enterprise
thoughtspot crunchbase
swayam nptel
american heart association bls card
iata course
edge training
udemy courses
an entrepreneur is a person
industrialized countries
physical education
design thinking course
official development assistance
indigenous entrepreneurs
money raising platforms
crowdfunding agriculture
ubc courses
securities based crowdfunding
debt based crowdfunding
aspiring entrepreneur
crowdfunding for non accredited investors
edtech
icwa course
entrepreneurship slideshare
top equity crowdfunding sites
crowdfunding curve
start up tech
virtual training
successful business man
leadership courses
data analytics courses
Share this article
Related Posts