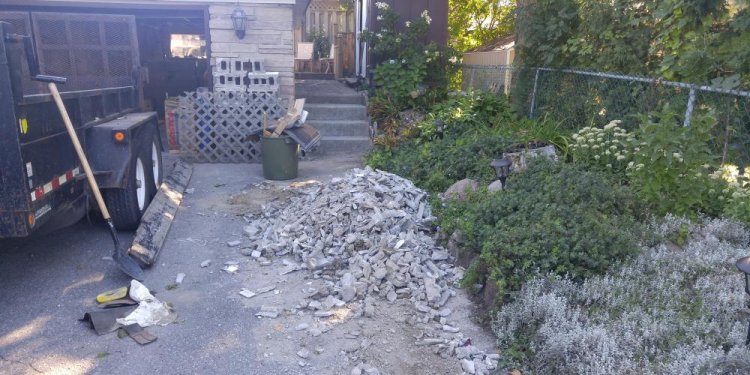 Junk Removal Durham Region
It's easy to accumulate lots of stuff, but when it comes to getting rid of your unwanted junk, things can get complicated. After all, you can't just throw your worn-out furniture, bulky renovation waste, old clothes, and smelly sports gear in a garbage bag - you've got to sort everything out, get it out, and figure out where it all needs to go.
Here at 1-800-GOT-JUNK? we're all about making your life easier - that's why we offer full-service junk removal in Whitby. When you call us, we'll send two friendly, strong crew members over right away in our clean, shiny truck. Once we arrive, we'll provide you with an all-inclusive estimate that includes loading up your junk and disposing of everything in an environmentally-responsible way.
And because our fair, up-front prices are based on the amount of space your junk takes up in our truck, you'll never have to worry about extra fees like fuel surcharges or premiums for bulky items. As the world's largest junk removal service, we're committed to making junk removal simple, affordable and stress-free!
What We Take
1-800-GOT-JUNK? will haul away any non-hazardous junk that our team of two uniformed crew members can lift and fit into our truck. Here's some examples of the kinds of items we'll take away for you:
Yard waste, including sod, soil, rocks, and branches
Bricks, concrete, and asphalt
Wood scraps
Vinyl siding
Tiles and floor coverings
Toilets, sinks, showers, and bathtubs
Recliners, sofas, and table
Computers, cables, printers, and monitors
Hot tubs
Clothing and bedding
Stuffed animals
Cribs, car seats, and playpens
Dog houses
Fencing
We'll travel to any location in Whitby, including warehouses and commercial spaces. Whether you have a single item, or loads and loads of junk, we're in your neighbourhood and we're happy to help. Show us what we're up against - we love a challenge!
Full-Service Whitby Metal Recycling
If you have piles of car parts, a rusty old BBQ, or an old TV antenna tower that you'd like to make disappear, we can help. We provide full-service Whitby metal recycling - when you call us, you can rest assured knowing that your scrap metal will be recycled at an approved facility.
We'll pick up scrap metal from anywhere in Whitby, and we'll take care of all the heavy lifting, sorting, and loading so you don't have to. Our experienced crew are fully insured and experienced in handling bulky metal objects.
Here's some examples of the metal items we can recycle for you:
Bicycles
Golf clubs
Metal bathtubs
Appliances like washing machines, stoves, and dishwashers
Exhaust fans and vents
Ducts
Metal siding and roofing
Hardware, including screws and nails
Air conditioners
Hot water tanks
Chain link fencing
Industrial shelving
Metal filing cabinets and safes
Lawn mowers
Hand and power tools
We'll also make sure that any good, usable appliances, tools, renovation materials and sports equipment are donated to a local charity for re-use.
Your Favourite Whitby Junk Removal Service
As the leading Whitby junk removal service, we're committed to providing environmentally-responsible junk removal throughout Durham Region. We'll sort through your junk, ensuring that any good, reusable items are donated to local non-profit groups and charitable organisations. We'll also make sure that anything that can be recycled stays out of the landfill, so you can feel good about the fact that you're getting rid of your junk in a way that protects the environment.
When you're ready to experience fast, affordable relief from your junk, give us a call at 1-800-GOT-JUNK? to schedule your free on-site estimate at a time that works best for you. We work evenings and weekends, so you won't have to take time off work to wait for us.
Share this article
Related Posts