Business plan for Junk Removal business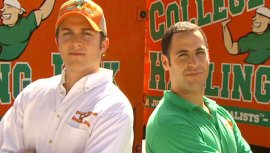 Founders of College Hunks Hauling Junk: Omar Soliman and Nick Friedman.
Name: Nick Friedman, 28
Founded: College Hunks Hauling Junk, Tampa, Fla., 2005
Business: Franchisor of junk removal, moving and donation pick-up business.
Nick Friedman was a senior at Pomona College when he and a couple of buddies started using a cargo van for junk removal, light moving and deliveries to earn some extra cash during the summer. When he graduated, he got a job as a research analyst. Meanwhile, Friedman worked on the business on the weekends and evenings. Three months into his cubicle life, he emailed his friend Omar Soliman, and they decided that it was time to launch College Hunks Hauling Junk full-scale. What started with one truck now includes 33 franchises, a fleet of more than 50 trucks, 30 corporate employees and 100 employees system-wide.
Challenge No. 1: Finding out what permits, licenses and other required documents were needed to start a junk-hauling business. We didn't expect hauling junk to become a real business, so we didn't even think about permits or licenses. Unfortunately, we learned the hard way when local authorities pulled us over to check our documentation for hauling, threatened us with arrests and hit us with fines for not having the right paperwork. That's when we decided to take what we were doing a little more seriously. We took our idea to our professor, who did his best to guide us to the right local township offices to get us started.
Why: This requires a lot of research and planning ahead, but it can also cause you to get stuck if you don't power through it instead of just pulling the trigger and getting started. At first we got stuck for weeks trying to figure out what paperwork we needed and making sure to get every license and permit. It all took so much time and energy.
Solution: We spoke with other local businesses about how they handled the permits and licensing in the beginning. They gave us an inside look at how they began their business, and some even showed us their original business plans. They told us not to get bogged down in details or over-analyze what we needed to get started. Some said that we shouldn't even bother writing a business plan. They suggested we just take the plunge first and then figure out what we needed. We also called our local town hall and spoke with the township officials who handle local businesses. Eventually, we decided we could spend our entire lifetime making sure we had all our ducks in a row. We have adopted the mantra "Ready, Fire, Aim." The idea is that if you launch the business, you can always go back and tweak some of the administrative aspects. We've been hit with a few minor fines and warnings since launching, but we chalk those up to expenses that are worth spending rather than wasting valuable time on administrative details just to save a few hundred bucks. As long as it's not a business-threatening issue like filing taxes or proper licensing, then it's not worth driving yourself crazy trying to line everything up perfectly - it will never be perfect.
dedicated short range communication
communication model
how start a business
outdoor pots
bali coworking space
communication theories and models
christmas market oxford
coworking southampton
beats international
how do i get my business on google
rt international
how to sign off a business letter
outdoor ethernet cable
artificial outdoor plants
plt worldwide hoodie
outdoor daybed
miami international autodrome
christmas words
skipton building society interest rates
coworking space poole
bath building society for intermediaries
christmas tree clipart
on a worldwide level
marriott international
signal cryptocurrency has worldwide
rbs worldwide mc
mens christmas pyjamas
selina coworking
who owns nationwide building society
coworking space california
cadburys worldwide
royal mail international prices
how to make money in business
how to start personal training business
london outdoor restaurants
overcoming barriers to communication
where to get business loan
communication competency questions
balans soho society
information society
lc international on bank statement
obesity statistics worldwide 2022
secret society movie
coworking wimbledon
what can you do with business management degree
Share this article
Related Posts