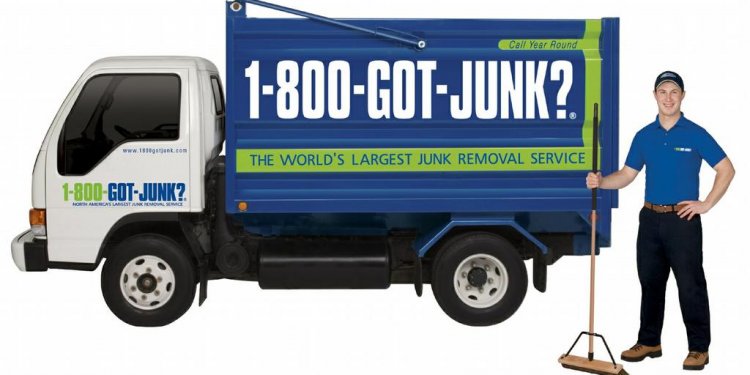 1-800-GOT-JUNK Removal service
In Feb. 2006 the local Winchester Star ran a story about us presenting our grand prize raffle winner with a house cleanout. This photo shows manager Don Valerio shaking the hand of Marion Roger of Winchester, MA who saw us in a local event and entered the contest and won. Marion was quoted as saying she was very comforted in knowing that much of her junk was going to be donated to local charities.
Boston Home Show
Boston North's 1-800-GOT-JUNK? franchise is constantly out in the community attending business events as well as supporting charitable events. Here we are at one of our booths meeting and greeting people at the Boston Home Show held every year in Boston.
Boston Marathon - Marathon Monday
1-800-GOT-JUNK? franchise partner Don Valerio with his sister Joyce who just finished running the Boston Marathon. Our Boston North franchise now sponsors Joyce every year as she runs in the Mothers Day Road Race to raise money and awareness for the Melrose Alliance Against Violence .
Planning a move in Boston and area? Let us help
Did you know that we're opening a new company called You Move Me?
You Move Me is a full-service local moving company, which means that we move you, not just your boxes. We can supply you with boxes and other packing supplies, pack up your belongings, and move you safely and efficiently in to your new home.
(Don't forget to get rid of your old junk before you move. 1-800-GOT-JUNK? can always come to the rescue to make sure you're only taking the stuff you actually want with you on moving day).
Donating Wheelchairs to Bolivia
Boston North's 1-800-GOT-JUNK? franchise donated wheelchairs to a charity who then supplied them to people living in Bolivia. This effort was led by Don Valerio and was met with much success in his efforts to deliver wheelchairs picked up by 1-800-GOT-JUNK? crews.
Share this article
Related Posts