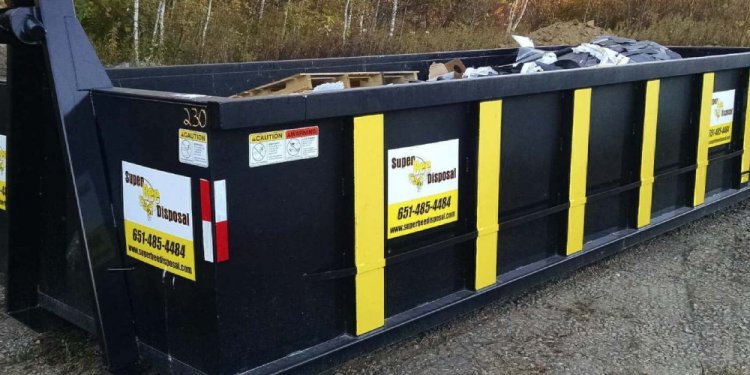 Junk Removal, Dumpster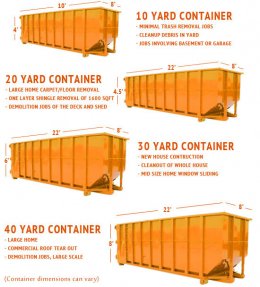 Whether it's a renovation project, new construction, home cleanout, furniture removal, or any other type of waste or debris removal project, a junk removal service or dumpster rental are the top two solutions for the job. But, when is it better to rent a dumpster vs. hiring a junk removal company, and vice versa? Let's explore the difference between the two and determine which is best for your situation.
Disposal Option #1: Rent a Dumpster
When you'd prefer to clear out the junk/debris yourself, renting a dumpster is the way to go. It's a simple process that involves calling the dumpster rental company, choosing a container size, having it dropped off at your property, filling it up, and having it hauled away.
Roll-off dumpsters come in several capacities, including the most common container sizes: 10, 20, 30 and 40 yard bins. When renting a dumpster, "yards" is referring to the "cubic yard" capacity of the dumpster.
For reference, a 10 yard dumpster is ideal for a garage or shed cleanout, while a 40 yard dumpster is the best solution for construction projects or complete re-roofing jobs. The dumpster rental company can help you choose the perfect container for the job.
Find out which dumpster size is right for you:
Many dumpster rental companies are focused on eco-friendly waste removal, so most of the debris you toss in the dumpster will head to recycling centers. This is particularly true for "clean loads" containing all of the same recyclable materials, such as concrete or asphalt shingles.
Dumpsters are heavy, particularly when filled up with junk and debris. There are two main things to consider when it comes to dumpster weight: protecting your driveway/property and avoiding exceeding the weight limit.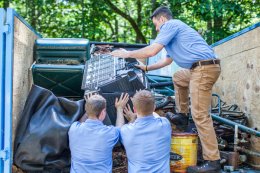 Guard Against Damage:
A roll-off dumpster can easily weigh several tons once filled with debris. For example, a single layer of shingles torn off a 1, 500-square-foot roof as part of a re-roofing project can easily weigh two tons (4, 000 lbs). This amount of weight can wreak havoc on a concrete driveway, yard, patio, or asphalt.
Many dumpster rental companies will place plywood or 2 x 4s beneath the dumpster when dropping it off to protect against damage.
Weight Restrictions:
Nearly every rental company enforces weight restrictions on the load. These restrictions are determined based on local regulations and landfill dumping fees. If your load exceeds the weight restriction set by the rental company, you may incur additional charges.
Be sure to thoroughly understand the rental company's weight restrictions. By discussing in detail the type of debris you plan to get rid of, the rental company can estimate the total weight of the load before you fill the container. To be safe, always over-estimate to ensure you don't go over.
Disposal Option #2: Hire a Junk Removal Service
Like renting a dumpster, a junk disposal companies can help with spring/fall home cleanings, estate cleanouts, yard waste, construction/demolition debris, or general rubbish removal. The difference is that the junk removal company takes care of all the heavy lifting for you.
Hiring a junk removal company is just as easy as renting a dumpster. You simply call, schedule, pay, and enjoy your clutter-free space. The cost is determined by the type and volume of junk or debris to be hauled away (more details below). The junk removal company will give you a free on-site estimate for projects bigger than picking up a few pieces of furniture, for example.
Junk removal companies are pros at removing bulky, heavy items (furniture, appliances, etc.) and large quantities of debris (demolition debris, yard waste, etc.). They work quickly but are also focused on making sure no damage is inflicted to your property in the process.
When renting a dumpster makes sense:
You want the flexibility to load the container over time (a typical rental includes up to 7 days)
You don't mind loading the junk or debris yourself to save a little money on labor
You have at least 7 cubic yards or more of debris (roll-off containers typically start at 10 cubic yards, so if you only have 3 or 4 cubic yards of material, you're paying for more dumpster than you need)
Share this article
Related Posts