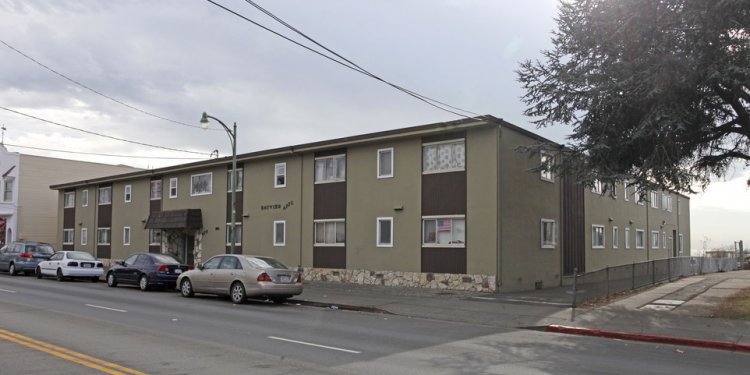 Junk Removal Alameda CA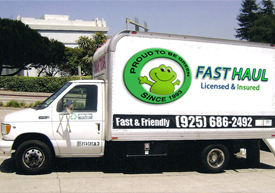 Our Junk hauling truck and dirt removal truck in Alameda
The charming city of Alameda, located in Alameda County, California, is renowned for its considerable collection of Victorian Homes and Manses. Alameda Island, or "The Island" as the locals refer to it, connects to Oakland by way of two tunnels and a bridge and looks serenely out onto the San Francisco Bay. The city has a total population of 73, 812. Originally a resort town, with a substantial sand beach and ideal weather year-round, the West Coast equivalent of Coney Island, Neptune Beach, was built in Alameda in 1917. The Snow Cone and the Popsicle were co-created by the owners of Neptune Beach and first sold there. Today, due to its ideal location, it attracts kite and wind surfers at the city's Crown Beach, as well as those who enjoy the pleasures of beachcombing without the gusty winds found up and down the coast. (Source: )
The City of Alameda takes landfill reduction very seriously and is committed to a suite of waste management programs for residents, businesses and local government. This has resulted in a commendable 68% diversion rate. Alameda uses a three-bin system for garbage, organics and recycling. Alameda is also one of the few cities in the country that collects food waste and used motor oil at the curbside. In addition, Styrofoam is banned throughout the community.
The City's solid waste, green waste, recycling, and food waste and organics collection are managed by Waste Management. For more information, call the City's Public Works Department (510) 747-7930 or email Public Works. The city does not consider E-Waste or Household Hazardous Waste to be garbage or acceptable for curbside pickup, but instead requires residents to self-haul (or have someone else haul their E-Waste or Household Hazardous Waste) to one of the county's facilities. Alameda residents of single-family homes and multiplex buildings (with 4 units or less) may schedule an annual on-call cleanup to discard overflow waste and recyclable materials. This service is available at no charge, once per 12-month period, if you are eligible.
If you live in Alameda or the surrounding area, and you have bulk items, extra garbage, construction debris, unwanted electronics, discarded furniture, or other items not suitable for standard trash or recycling pick-up, or don't wish to wait for another annual pickup appointment, contact Fast Haul as we provide the following services:
Residential Junk Removal and Trash Hauling in Alameda
Fast Haul comes to your home and removes all your junk; With your guidance, our hauling junk removal experts will separate out the trash and haul it away. We'll even clean up after we're done!
Commercial Junk Removal and Trash Hauling in Alameda
Because Fast Haul recycles most of the garbage we haul, your trash will be dealt with in a clean sustainable way. Fast Haul regularly works with local real estate companies, schools, property management companies, and government agencies as well as non-profit organizations.
Electronic Waste Hauling in Alameda
Nowadays, electronic waste, or e-waste, is a huge percentage of America's waste stream, especially in such a tech-oriented place as the San Francisco Bay Area. Fast Haul recycle all of your unwanted junk, including electronic waste such as TVs, computers, VCRs, DVD players, copy and fax machines, cell phones and most items containing circuit boards and electronic elements.
We offer our hauling and junk removal services to Alameda and the entire San Francisco Bay Area! Not sure if we serve your area? Check out all of our Areas of service
Our hauling services include (but are not limited to):
> Junk hauling
Trash removal
Basement junk removal
Yard waste hauling
Furniture removal
Delivery & Moving services
Electronic waste hauling
Trash Truck Services
Appliance removal & hauling (all types)
Furniture removal & hauling (any size)
> Mattresses & sofa hauling
Office furniture, cubicles & equipment hauling
Hot tub & spa removal & hauling
Swimming pool removal & hauling
Large equipment hauling
Yard waste hauling & cleanup
Earthquake damage clean up & hauling
Fire damage clean up & hauling
Flood damage clean up & hauling
Dirt & concrete removal & hauling
Since our founding in 1993, Fast Haul has always had a Green Business philosophy. As one of the Bay Areas oldest junk removal & trash hauling companies, practicing recycling, re-use, and donation comes naturally. It makes our customers feel good as well as keeping costs down and reducing our landfills and dumps. We specialize in Green hauling services.
Check out our PRICES page
Book an appointment online and get a $15 discount:
Our East Bay office:
2222 E.30th Street
Oakland, CA 94530
(510) 653-0445
Addresses
To better serve the entire San Francisco Bay Area, we do have several other locations we can be reached at:
El Cerrito:
Share this article
Related Posts