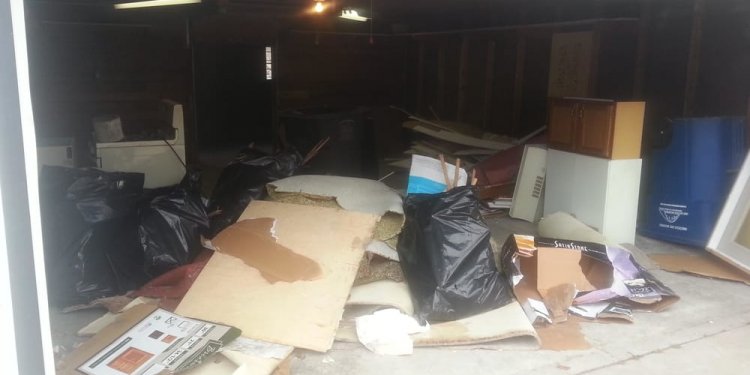 Junk Removal Des Moines
All it takes is a renovation project, a relocation, or a big party to leave a mess that seems impossibly large. Loading bags, hiring a dumpster, or placing piles of junk on your curb can be a thankless, messy job, taking up hours of your time for little reward.
When you're stuck with junk you don't want, it's time to do something about it. As the number one name in junk removal in Des Moines, 1-800-GOT-JUNK? is always here to help. We'll come to your home or business, load up your junk, and take it away. No expensive dumpster rentals, no waiting for trash day, and no living or working around unsightly garbage – with our help, you'll never have to worry about junk again! As the world's most trusted resource in junk removal, 1-800-GOT-JUNK? is always here when you need help.
Comprehensive Services
If you have junk you want to get rid of, you're in the right place. 1-800-GOT-JUNK? is our name, and junk removal is our game. We'll take just about anything, including:
Construction waste
Mattresses
Old appliances
Electronics recycling
Auto parts
Old furniture
Yard waste
And so much more!
From warehouses to garages, we can visit any location in Des Moines. We'll send two friendly, uniformed team members to your home in our clean, shiny trucks to pick up almost anything. If we can lift it, we can take it!
Our Affordable Pricing
Worried about overpaying for junk removal services? Don't be. With 1-800-GOT-JUNK?, you're always guaranteed a great quote that's customized for you. Our rates are always reasonable, giving you dumpster rental alternatives whenever you need them. We'll never charge you for services you don't need; every price quote is based on how much room you need in our trucks, and we're pleased to offer the best prices in town. Just point and the junk disappears!
Eco-Friendly Disposal
Do you know where your junk goes when it's taken away? If you're uncomfortable with your unwanted possessions going to the local dump, you're in luck.
At 1-800-GOT-JUNK?, we were recycling before it was cool. We care about the environment, which is why we'll always go the extra mile to do what's right. Our team members are highly educated in responsible disposal, ensuring things like scrap metal, appliances, and electronics are disposed of properly and responsibly. When you choose our team, you're choosing it do what's best for your home and for the environment. What could be better than that?
Residential & Commercial Junk Removal
Trash accumulates everywhere, and removal can often be a burden. Instead of working in a clutter-filled atmosphere, there's a better way to handle your space.
From junk at work to junk at home, 1-800-GOT-JUNK? is the easy solution you deserve. We're happy to remove trash from any location, whether that means your apartment complex or the warehouse behind your office. You don't even have to collect it for us; just tell us where to go and we'll go get it. Serving a wide range of industries, trash removal at work is now easier than ever!
Help on Your Schedule
When you have junk, you want it gone as soon as possible. At 1-800-GOT-JUNK?, we're dedicated to removal on your schedule, taking care of your trash without ruining the rest of your day. When you set up a consultation, we'll pick a time that works for you. Our team will show up on time, get your trash, and get out, giving you the assistance you deserve without interfering with your life. With evening appointments and weekend availability, we'll make sure we choose a time that is perfect for your family, your job, and your life.
There's no reason to suffer with your junk when there's an easy, affordable solution! When you're looking for affordable junk removal in Des Moines, 1-800-GOT-JUNK? is on your side. Call today to schedule an appointment and say goodbye to your junk once and for all.
Share this article
Related Posts